Quiz of the week: into the heart of linguistics
With quizmaster Peter Bakker 
A group of students from the Netherlands made a daily calendar with etymologies. The physical calendar is for sale from the Dutch publisher Brill. Recommended.
Recently, more exactly on Valentine's day, the compilers pointed out that the English word "heart" is cognate with the root cardio- in "cardiologist" or cardio-vascular. This means that these roots English heart and Greek-derived kard- are historically connected to the same root, in this case within the Indo-European language family. The six words below are likewise all words meaning "heart" in Indo-European languages. Which of these is/are NOT cognate with card- and heart? It is not easy, and your guess may win as well, if your answer is the closest match.
Ḍumaki            ya
Armenian        sirt
Torvali             huii
Danish             /jæɐ̯də/
Romani            ilo
French             coeur
Send your answer by 25 February, noon, to quiz@lingoblog.dk. And win one or more great prizes. If you know it, or you guess correctly, you can win.
Ugens quiz: i hjertet af lingvistik
Ved Quizmaster Peter Bakker
En gruppe studerende fra Nederlandene lavede en dagligdags bordkalender med etymologier. Den fysiske kalender er til salg fra det nederlandske forlag Brill.
For nylig, mere præcist på Valentinsdag, påpegede kompilatorerne, at det engelske ord heart (Dansk: hjerte) er beslægtet (cognate/kognaat) med roden kardio- i kardiolog eller kardio-vaskulær. Dette betyder, at disse rødder, engelsk heart og græsk-afledt kard, er historisk forbundet med den samme rod, i dette tilfælde inden for den indo-europæiske sprogfamilie. De seks ord nedenfor er ligeledes ord der alle betyder "hjerte" og sprogene er allesammenindoeuropæiske. Hvilke(n) af disse er IKKE kendt med kort- og hjerte? Det er ikke let, og vi accepterer også gætte.
Ḍumaki           ya
armensk         sirt
Torvali            huii
Dansk             /jæɐ̯də/
Romani           ilo
French           coeur
Send Deres svar senest den 25. Februar kl. 12 til quiz@lingoblog.dk. Og vind en eller flere flotte præmier. Hvis De ikke ved det, kan du gætte.
Last week's quiz: and the winner is…..
Last week's quiz was:
Which language is spoken in the sound file? You could score points for (i) language family, (ii) the country it is spoken in, (iii) the name of the language, and (iv) the dialect.
Jeroen Willemsen, guest-quizmaster, has judged the answers.
Since these are increasingly specific, you get one point for language family, two for the country, three for the name and four for the dialect. 
 The answer was: (i) Indo-European, (ii) Italy (more specifically: Val Gardena), (iii) Ladin, (iv) Gherdëina dialect.
Only three people were brave enough to answer this challenging quiz.
 Alona Chaika said:
I think that the language of the recording could be 'Negro Dutch or Negro Dutch, which was a Creole language spoken by the slaves in Skt. Thomas and Skt. Jan in the Danish West Indies from about the year 1700. The Dutch dialect Zeeuws (Zeelandsk) formed the basis of the language, with influence from other Dutch dialects, Danish, English, French, Spanish and various West African languages. ' (Wikipedia)
Since it is Dutch-based, we can say that the language family is correct. One point to Alona.
Byurakn Ishkhanyan said:
I'll give it a try (it sounds like Italian with French pronunciation, so that's why I'm going with Corsican)
Italo-Dalmatian (a branch of Romance languages in the larger Indo-European family)

France (or more specifically the island of Corsica)

Corsican

Supranacciu (just a wild guess)
Byurakn was a bit closer (geographically and linguistically), but also scores one point. 
 Thomas Widmann said:
The following is a pure guess: (i) Indo-European / Romance, (ii) Switzerland, (iii) Rhaeto-Romanian / Rumantsch, (iv) Surselvic / Sursilvan.
Thomas was geographically closest with Switzerland, and Romansh is a good guess because it belongs to the same Rhaeto-Romance subfamily as Ladin. For this he scores an extra 0.1 bonus point.
These are the scores:
Alona:             1 point
Byurakn:         1 point
Thomas:          1.1 point
Congratulations Thomas, you win a book! You will be contacted by the prize-master!
Sidste uges quiz. Og vinderen er……
Spørgsmålet var: Hvilket sprog tales i lydfilen? Du kan score point for (i) sprogfamilie, (ii) det land, det er talt i, (iii) navnet på sproget, og (iv) dialekten.
Jeroen Willemsen, gæste-quizmaster, har vurderet svarene.
Alona Chaika skrev:
Jeg tror at sproget på optagelsen kunne være 'negerhollandsk eller negerhollands, som var et kreolsprog, der blev talt af slaverne på Skt. Thomas og Skt. Jan på de Dansk Vestindiske Øer fra omkring år 1700. Den nederlandske dialekt zeeuws (zeelandsk) dannede basis for sproget, med indflydelse fra andre nederlandske dialekter, dansk, engelsk, fransk, spansk og forskellige vestafrikanske sprog.' (wikipedia)
Da det er nederlandsk-baseret, kan vi sige, at sprogfamilien er korrekt. Et punkt til Alona.
Byurakn Ishkhanyan sagde:
Jeg vil prøve det (det lyder som italiensk med fransk udtale, så det er derfor jeg går med korsikansk)
Italo-Dalmatian (en gren af romansk sprog i den større indo-europæiske familie)
Frankrig (eller nærmere bestemt øen Korsika)
Korsikansk
Supranacciu (bare en vild gæt)
Byurakn var lidt tættere (geografisk og sprogligt), men scorede også et punkt.
Thomas Widmann skrev:
Hej,
flg. er et rent gæt: (i) indoeuropæisk/romansk, (ii) Schweiz, (iii) rætoromansk/rumantsch, (iv) surselvisk/sursilvan.
Thomas var geografisk tættest med Schweiz, og Romansh er et godt gæt, fordi det hører til den samme Rhaeto-Romance underfamilie som Ladin. Til dette scorer han et ekstra 0,1 bonuspoint.
Dette er scoringerne:
Alona: 1 point
Byurakn: 1 point
Thomas: 1,1 point
Tillykke Thomas, du vinder en bog! Du bliver kontaktet af præmiemesteren!
Attractive prizes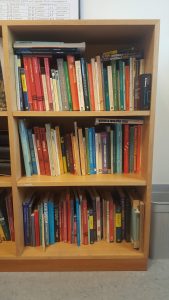 Please note that we have obtained an attractive collection of books, added to the desirable books we already had available. We ship all over the world.
The winner of the weekly quiz can win a prize, but also readers/followers who contribute with a language quiz for Lingoblog!
Quizzens vindere i 2020. Wall of Fame/Æresgalleri
Sidste år have vi haft 33 forskellige prisvindere. Vi sender præmier over hele verden.
Last year we gave prizes to 33 different winners. We ship all over the world. This year's winners:
Peter Aagaard Sørensen, Berlin.
Yonatan Goldshtein, Aarhus (Nina Grønnum, Groundworks of Danish Intonation. en klassiker.)
Jeroen Willemsen, Aarhus (Th. Bynon, Historical Linguistics, Cambridge UP, og Comrie's Language Universals and Linguistic Typology. 2nd edition. )
Sofia Navarro, Aarhus (Steven Pinker. The Language Instinct)
Nikita J. Myrting, Aarhus
Thomas Widmann, Bogense