Ugens quiz/quiz of the week
Hvor er dette billede taget og hvordan kan man vide det?

Where is this picture taken and how could one guess?
Ugens quiz: Frist mandag 27 Maj, kl. 12. 
Quiz of the Week: Deadline: Monday May 27, noon. 
This week's quiz has been compiled by Guest quizmaster Alexandra Kratschmer
SIDSTE UGES QUIZ. LAST WEEK'S QUIZ
Quizzen handlede om teksten "ADAM SIEN APPELN". På hvilket sprog er teksten skrevet?
The quiz was about the text ""ADAM SIEN APPELN". In which language is the text?
Bei dem Quiz geht es um den Text "" ADAM SIEN APPELN ". In welcher Sprache ist der Text geschrieben?
Bonus questions, for an extra prize: where was the picture taken? Which Danish film is connected with the text?
Bonusfragen für einen zusätzlichen Preis: Wo wurde das Bild aufgenommen? Welcher dänische Film hängt mit dem Text zusammen?
Bonus spørgsmål, til en ekstra pris: hvor blev billedet taget? Hvilken dansk film er forbundet med teksten?
We received a number of correct answers, and after a lottery, the winner is Jakob Steensig, who wrote ( Vi fik en række rigtige svar, og efter et lotteri fandt vi vinderen Jakob Steensig, der skrev):
I think that this is Low German/Plattdeutsch/plattysk, from Nothern Germany. In this language, like in some dialects of Norwegian and, presumably Jutlandic too, the genitive can be formed by placing a possessive pronoun between the possessor and the possessed, 'Adam his apples'. The Danish film is Adams Æbler ('Adam's Apples'). I believe the picture is taken in Hamburg because a theatre there made a performance based on the Danish film.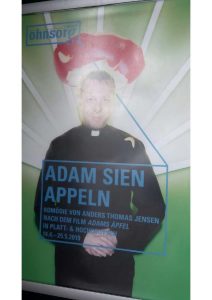 So he has both the bonus question and the language correct.  Here is the poster for the theatre play. Two books for you, Jakob!
Send dit svar senest kl. 12, mandag den 27. Maj til  quiz@lingoblog.dkog vind en sprogbog, og vær med i en lotteri om en Ipad.
Send your answer at the latest May 27, noon to quiz@lingoblog.dk and win a linguistic book, and join in a lottery about an Ipad.
Vi har taget kontakt med vinderen, til lykke!
WALL OF FAME/Æresgaleri
Quizzens vindere i 2019. Wall of Fame.
Jakob Steensig, Aarhus
Thomas Nielsen, Varde (Welsh syntax, + een boek in het Nederlands: al-ter-na-tief ABC)
Louise Jensen
Katrine Madsen, Aarhus ("Rid i nat", udgivet af Dansklærerforeningen)
Louise Frederikke Høgh Larsen, Odense (Otto Jespersen. Børnesprog; Birte N. Nielsen. Nøgle til de spanske verber)
Maria Andersson, Aalborg (Olsson J. (2008), Forensic Linguistics)
Carmen Rodríguez, Montevideo (Gramatica Cocama)
Wolfgang Glob, München (Indo-Europäische Sprachgeschichte)
Peter Aagaard Sørensen, Sønderjylland (Lewis – Teach yourself Turkish; Gurli Hauschildt – Handelsfaglig Ordbog dansk-tysk).
Jakob Kristen Winter Overgaard, Aarhus
Cefas van Rossem, Netherlands (Highfield, Arnold R.; Bøegh, Kristoffer F. 2018. Georg Hjersing Høst's Account of the Island of St. Thomas and Its Governors : Recorded there on the Island from 1769 until 1776)
Byurakn Ishkhanyan, København/Copenhagen
Jeroen Willemsen, Aarhus