Ugens quiz, med quizmaster Peter Bakker
Denne uges quiz; med gæst-quizmaster Gustav Styrbjørn Johannesen
I denne uge har jeg skrevet et LingoBlog-indlæg med et par tips til lingvistisk ferielæsning. Lad mig dele en hemmelighed med jer: Et sted i det indlæg har jeg gemt en hemmelig besked. Beskeden er på dansk, men er ikke nødvendigvis skrevet med danske bogstaver af dén grund.
Oprindeligt var det bare tænkt som et Easter Egg, men LingoBlogs quizmaster, Peter Bakker, har spurgt, om jeg ville lave en quiz ud af det – og hvem kan sige nej til det? Derfor er der nu en præmie på spil til den, der kan finde og afkode den hemmelige besked. Vinderen vil frit kunne vælge én bog fra blogindlægget som sin præmie.
Beskeden er dog – hvis jeg selv skal sige det – umådeligt svær at gennemskue, så jeg må hellere give jer et lille hint: Vinderen af denne quiz vil kunne sige "Veni, Vidi Vici" – eller i hvert fald læse det!
Gustav
Send dit svar senest den 14. april kl. 12 til quiz@lingoblog.dk. Og vind en eller flere flotte præmier!
P.S. Quizmasteren tilføjer: en gæste-quizmaster vinder også en bog. Læsere kan sende quizforslag til quiz@lingoblog.dk
This week's quiz
with guest-quizmaster Gustav Styrbjørn Johannesen
This week, I've been lucky enough to have LingoBlog publish a blog entry I've written, recommending Linguistics books to read during the Corona lockdown. I'll let you in on a secret about that blog entry: Somewhere in it, a secret message is hidden. Originally I intended this only as a fun little Easter Egg, but I was then encouraged to turn it into an official quiz. For that reason, there's a book going out to the person who can find and decode the secret message. The winner will be able to pick one of the books reviewed in the blog entry as their prize.
The message is written in Danish (but not necessarily the way Danish is normally written). For this, I apologise to LingoBlog's non-Danish-speaking readership; at the time of writing the message, I wasn't planning for it to be a formal competition, only a well-hidden Easter Egg that might result in a small prize for the overly inquisitive.
-Gustav
Send your answer by April 14, noon, to quiz@lingoblog.dk. And win one or more great prizes. Prizes are sent out worldwide.
P.S. Your quizmaster adds: guest-quizmasters also win a book. Readers can send their proposal to quiz@lingoblog.dk
Last week's quiz. And the winner is….
We received several answers, including some that described other phonetic features they have incommon, or very general features like that they are pulmonic-egressive. The right answer was, in the spirit of our times, that are all coronal. Not all respondents seem to have remarked that, but Jeroen Willemsen wrote that he "realised the joke as I typed the answer: corona-l. Good one!" Unfortunately for him, he did not win, it is Jeannette Stronks from Amsterdam, who wrote:
Sometimes I dive into linguistics and so I discovered your blog. I enjoyed reading some of the articles!

And now the answer to the question of this weeks quiz:

These consonants are all coronal.

I am thrilled you made me refresh my memory on this subject :)
Congratulations, Jeannette! Gefeliciteerd! The COVID-19 situation prevents us from sending you a book right now, but we owe you a linguistic book, and our prize-dealer will contact you on your wishes.
This week's quiz is a guest quiz, and this time it is very difficult, so you get two weeks to solve it.
Sidste uges quiz. Og vinderen er….
Vi modtog flere svar, herunder nogle, der beskrev andre fonetiske træk, de har til fælles, eller meget generelle træk som at de alle sammen er pulmoniske-egressive. Det rigtige svar var i vores ånds ånd alle sammen koronale konsonanter. Ikke alle respondenter ser ud til at have bemærket det, men Jeroen Willemsen skrev, at han "indså den vittighed, da jeg skrev svaret: corona-l. Godt! " Desværre for ham vandt han ikke, det er Jeannette Stronks fra Amsterdam, der skrev:
Nogle gange dykker jeg i sprogvidenskab, og så opdagede jeres blog. Jeg nød at læse nogle af artiklene!

Og nu svaret på spørgsmålet om denne uges quiz:

Disse konsonanter er alle koronale.

Jeg er begejstret for at i fik mig til at opdatere min hukommelse om dette emne :)
Tillykke, Jeannette! Gefeliciteerd! COVID-19-situationen forhindrer os lige nu i at sende dig en bogpræmie, men vi skylder dig en sproglig bog, og vores prisudbyder vil kontakte dig om dine ønsker, og så får du den senere.
Denne uges quiz er meget svær, derfor får i to uger til at løse den.
Attractive prizes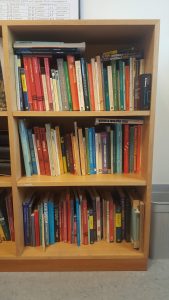 Please note that we have obtained an attractive collection of books, added to the desirable books we already had available. We ship all over the world.The winner of the weekly quiz can win a prize, but also readers/followers who contribute with a language quiz for Lingoblog!
Quizzens vindere i 2020. Wall of Fame/Æresgalleri
Sidste år have vi haft 33 forskellige prisvindere. Vi sender præmier over hele verden.
Last year we gave prizes to 33 different winners. We ship all over the world. This year's winners:
Peter Aagaard Sørensen, Berlin.
Yonatan Goldshtein, Aarhus (Nina Grønnum, Groundworks of Danish Intonation. en klassiker.)
Jeroen Willemsen, Aarhus (Th. Bynon, Historical Linguistics, Cambridge UP, og Comrie's Language Universals and Linguistic Typology. 2nd edition; The Sixth Extinction by Richard Leakey. )
Sofia Navarro, Aarhus (Steven Pinker. The Language Instinct)
Nikita J. Myrting, Aarhus
Thomas Widmann, Bogense (Teach yourself Samoan)
Anne Leth Sørensen, Odense 
Natasha Videbæk, Aarhus (Bill Bryson – Mother Tongue)
Simon Poulsen
Marcus Holst
Bastian Solås
Jeannette Stronks, Amsterdam