Ugens quiz

/quiz of the week
Ved Quizmaster Peter Bakker
LAST WEEK'S QUIZ/
SIDSTE UGES QUIZ
Last week we asked for a charactarization of men or husbands, based on an authentic number of circumlocutions relating to wives and women. We asked people to be creative and/or insulting. We received many impressive proposals. The world's best poets are overshadowed by the texts. We decided to present the best ones here.
I sidste uge bad vi om en karaktarisering af mænd eller mænd, baseret på et autentisk antal omskærmninger vedrørende hustruer og kvinder. Vi bad folk være kreative og / eller fornærmende. Vi modtog mange imponerende forslag. Verdens bedste digtere overskygges af teksterne. Vi besluttede at præsentere de bedste her.
MARCUS HOLST skabte både en kreativ og fornærmende.
MARCUS HOLST made both a creative and an insulting one.
(1) A creative one:

The one who think he dies from the flu

The one who cuts the ice

The one the seals fear

The one the children never see

The one who is always cold

The one who spears the fish

The one who builds the igloo
(2) An insulting one:
The who?

The what?

The one who existed only once 

The one that left

The one that is never there

The one who is unknown

The one that did not want the responsibility  

The one who only wanted the casual fun
(3) SIDSEL BJÖRK HERBST KRISTIANSEN
Her er min besvarelse til ugens quiz. 
Hvordan man kunne omskrive "ægtemand":
Den der har fanget mig.

Den der ikke tilhører mig.

Den der bestøver.

Den der er min far og mit barn.

Den der tilsmudser min måtte.

Den der bøjer mit skelet.

Den jeg bøjer mig for.

Den der dræber mig langsomt.
(4) VIBE KROMANN AACHMANN:
Den der spiser min ris.

Den der snorker.

Den der tisser stående.

Den der kan nå de øverste kokosnødder.

Den der skyder vildsvin til mig.

Den der tror han bestemmer. 
(5) SOFIA NAVARRO:
Ægtemand:

Den der reparerer mine ting.

Den der ikke kan gøre rent.

Den der ikke græder.

Den der ikke involverer sig i opdragelsen af mine børn.

Den jeg deler med andre.

Den der betaler alle mine regninger.
(6) JEROEN WILLEMSEN
Here are some derogatory terms for 'husband', based on a fictional tribe and a lively imagination.
The one who stokes my flames with his rod

The one who dips his betelvine into my lime powder

The one who plants his seeds in my gorge

The one who churns his milk in my vessel

The one who cleans my cobwebs with his broom

The one who works his pestle in my mortar

The one who spears my squid
AND THE WINNERS ARE:
It was very difficult to decide. But we decided to nominate Marcus Holst as one of the winners, for the two solutions. The OTHER winner can be decided by you. Send a mail to quiz@lingoblog.dk with the number 3, 4, 5 or 6. The one with most votes will be the other winner.
Det var meget vanskeligt at fastlægge vinderen. Men vi besluttede at nominere Marcus Holst som ÉN af vinderne for de to sendte løsninger. Den ANDEN vinder kan afgøres af dig. Send en mail til quiz@lingoblog.dk med nummer 3, 4, 5 eller 6. Den med flest stemmer vil være den anden vinder.
THIS WEEK'S QUIZ
This week's quiz is a classical one. We obtained a multilingual tea paper bag, with the word for "tea" in 17 languages. We have an identification task and an etymology task.
(A) identification: what are the names of the 17 languages on the paper bag?
(B) etymology: almost all of these words go back to two Asian words. What are the source languages of the (borrowed) words for tea in the 17 languages?
Answers do not have to be complete. Send your answer before December 10 noon to: quiz@lingoblog.dk, and win a linguistics-related DVD or book!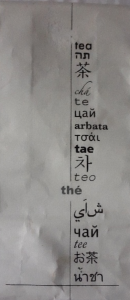 DENNE UGES QUIZ
Denne uges quiz er klassisk. Vi fik en flersproget tepapirpose med ordet for "te" på 17 sprog. Vi har en identifikationsopgave og en etymologiopgave.
(A) identifikation: hvad hedder de 17 sprog på papirposen?
(B) etymologi: næsten alle disse ord for"te" går tilbage til to asiatiske ord. Hvad er kildesprog for de (lånte) ord for te på de 17 sprog?
Svarene behøver ikke være komplette. Send dit svar inden 10. december kl. 12.00 til: quiz@lingoblog.dk, og vind en sprogvidenskabelig DVD eller bog!
Attractive prizes
Please note that we have obtained an attractive collection of books, added to the desirable books we already had available. We ship all over the world.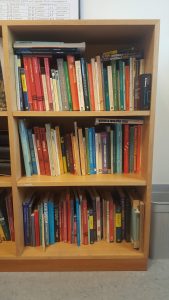 Quizzens vindere i 2019. Wall of Fame/Æresgalleri
Sofia Navarro, Aarhus (The Secret of the Lost Chronicle of Sophia. Miranda Moondown) 
Thomas Nielsen, Varde (Teach yourself Malay; Japanese for Travelers)
Yusuf Ahmad, København (DVD på amerikansk tegnsprog: Children of a Lesser God)
Kirsten Nørgaard Nielsen, Østjylland ("Udvalget er jo kæmpe, så det var svært at vælge, men jeg endte med bogen 'Hate speech – fra hadetale til hadesyn' :)")
Byurakn Ishkhanyan, København/Copenhagen
Rebekah Baglini, Aarhus
Byurakn Ishkhanyan, København/Copenhagen (A practical course in Turkish)
Agnes Boel Nielsen, Aarhus (699 Varme Termer. Leksikon til sprogkundskab)
Sofia Navarro, Aarhus (Broken English Spoken Perfectly)
M. Beisner, Jylland
Alona Chaika, Aarhus (book about psycholinguistics)
Sofia Navarro, Aarhus (two books about teaching/learning Danish)
Jens Malmkjær Willumsen, Aarhus (teaching book for Japanese)
Pernille Blom, København V (video "Children of a lesser God" og Erik Hansen "Glæden ved Grammatik")
Jørgen Nielsen, Thy (en biografi af fonetiker Eli Fischer Jørgensen)
Jens Petersen, Brande (en russisk grammatik)
Susan Bjørn, Nuuk (bog om dansk Vestindien og en grønlandsk grammatik)
Marcia Taylor, Philadelphia, USA (book by Deborah Tannen on men's/women's language)
Eric Jensen, Sydney, Australia (Anders Lund Madsen: æøa)
Jytte Petersen, Aabenraa
Mads Hansen, Aabenraa
Susan Bjørn, Odense (om thai sprogtypologi og engelsk sproghistorie)
Jakob Steensig, Aarhus
Thomas Nielsen, Varde (Welsh syntax, + een boek in het Nederlands: al-ter-na-tief ABC)
Louise Jensen
Katrine Madsen, Aarhus ("Rid i nat", udgivet af Dansklærerforeningen)
Louise Frederikke Høgh Larsen, Odense (Otto Jespersen. Børnesprog; Birte N. Nielsen. Nøgle til de spanske verber)
Maria Andersson, Aalborg (Olsson J. (2008), Forensic Linguistics)
Carmen Rodríguez, Montevideo (Gramatica Cocama)
Wolfgang Glob, München (Indo-Europäische Sprachgeschichte)
Peter Aagaard Sørensen, Sønderjylland (Lewis – Teach yourself Turkish; Gurli Hauschildt – Handelsfaglig Ordbog dansk-tysk).
Jakob Kristen Winter Overgaard, Aarhus
Cefas van Rossem, Netherlands (Highfield, Arnold R.; Bøegh, Kristoffer F. 2018. Georg Hjersing Høst's Account of the Island of St. Thomas and Its Governors : Recorded there on the Island from 1769 until 1776)
Byurakn Ishkhanyan, København/Copenhagen
Jeroen Willemsen, Aarhus