Ugens quiz

/Quiz of the week
Ved Quizmaster Peter Bakker
AND THE WINNER IS….
For the sake of convenience, we repeat the two questions of the last quiz of 2019 and the first quiz of 2020:
(1) What language, or what languages, did the original Saint Nicholas (probably) speak, based on what we know about his location, the languages spoken at the time in the region.
(2) Currently English can be said to be a "lingua franca" in Europe. This can end when the UK leaves the EU, and English will be spoken only on two geographically marginal islands in the EU. It willl be impossible to look into the future and predict which languages will be important, but looking back in time, which "lingua francas" have existed in Europe, defined as what is now the European Union, since the dawn of times? Indicate which region of Europe, and which period – roughly, where those former lingua francas were spoken.
This week's winner is Peter Aagaard Sørensen from Berlin, who gave the following perspicuous answer (admittedly, our fact-checking teams have not been able to verify all of the claims!):
Saint Nicholas was born in Asia minor when it was still a Roman province, and we can assume he spoke both Greek and Latin. Considering his current location, and the fact that he is not particularly celebrated in the Muslim world outside of Turkey, I assume he must have moved west before the fall of Constantinoble, and his knowledge of Turkish variants must be very limited. He most likely came to either Germany or the Netherlands, and we can assume he speaks either Dutch or Middle High German or New High German, or maybe all three. We know that he is well known in Britain, but we also know he moved to the North Pole. I stipulate that he must have spent some time in London or another well connected city on the isle, but left when he failed to secure a visa or left because of Brexit. How much English he learned during his stay there is not immediately evident, but considering that he works in production and transportation, he probably learned more Polish or Romanian than English during his stay. Considering the visa prerequisites, I believe he must have moved to Sweden, rather than Denmark or Norway, when he found a new home closer to the North Pole. He most likely moved to northern Sweden, where he picked up his famous reindeer before moving to his current residence at the North Pole. He probably has some command of Sami and Inuit dialects, as well as Swedish. His command of Danish is probably limited to what he needs for the bureaucracy that he needs to navigate, being an imigrant in a Danish territory.

Considering lingua francas, Nicholas probably picked up some of these as well. It is very likely that he picked up fingua francas (other than Latin, the lingua franca of the roman colonies, and Greek, a lingua franca in many of the old Byzantine colonies, which he must speak natively). He picked up German, as I have already described, either while living in northern Germany in late hanseatic time, where German was a trade language, or while traveling through the, misnamed, Holy Roman Empire where Low German was the lingua franca. He probably speaks some French, which was a lingua franca all over Europe from around 1700, and is still very prominent as a lingua franca i many areas in the world. He probably also knows some Spanish, considering he lived in the Netherlands while Spanish was a lingua franca there.
Congratulations, Peter, you have been contacted in connected with your prize!
Og denne uges quizvinderen er……
For nemheds skyld gentager vi de to spørgsmål fra den sidste quiz i 2019 og den første quiz i 2020:
(1) Hvilket sprog, eller hvilke sprog, talte den originale Sankt Nicolaus (sandsynligvis) baseret på hvad vi ved om hans bosted og liv, og de sprog, der blev talt på dette tidspunkt i regionen/regionerne?
(2) I øjeblikket kan engelsk siges at være en "lingua franca" i Europa. Dette kan dog slutte, når Det Forenede Kongerige forlader EU, og engelsk vil kun blive talt på to geografisk marginale øer i EU. Det vil være umuligt at forudsige hvilke sprog bliver vigtige og kommer til at erstatte engelsk (jo, det kommer til at ske en gang!). Derfor kigge vi i fortiden: når vi ser tilbage i tiden, hvilke "lingua francas" har eksisteret i Europa, defineret som hvad er nu EU efter tidernes morgen? Angiv, hvilken region i Europa, og hvilken periode – omtrent disse lingua francas taltes.
Vinderen er Peter Aagaard Sørensen fra Berlin, der sendte os følgende svar Oversæt fra engelsk):
Saint Nicholas er født i Lille Asien, da det stadig var en romersk provins, og vi kan antage, at han talte både græsk og latin. I betragtning af hans nuværende placering og det faktum, at han ikke er specielt fejret i den muslimske verden uden for Tyrkiet, antager jeg, at han må have flyttet vest før faldet i Konstantinopel, og hans kendskab til tyrkiske varianter må være meget begrænset. Han kom sandsynligvis til enten Tyskland eller Nederlandene, og vi kan antage, at han enten taler nederlandsk eller mellemhøjtysk eller nyhøjtysk eller måske alle tre. Vi ved, at han er velkendt i Storbritannien, men vi ved også, at han flyttede til Nordpolen. Jeg antager, at han må have tilbragt nogen tid i London eller en anden godt forbundet storby på øen, men han forlod den, da han ikke kunne sikre sig et visum, eller han forlod på grund af Brexit. Hvor meget engelsk han lærte under sit ophold, er ikke umiddelbart synlig, men i betragtning af at han arbejder i produktion og transport, lærte han sandsynligvis mere polsk eller rumænsk end engelsk under sit ophold. I betragtning af visumforudsætningerne tror jeg, han må have flyttet til Sverige snarere end Danmark eller Norge, da han fandt et nyt hjem tættere på Nordpolen. Han flyttede sandsynligvis til det nordlige Sverige, hvor han hentede sin berømte rensdyr inden han flyttede til sin nuværende bolig på Nordpolen. Han har sandsynligvis en vis kommando over samiske og inuitiske dialekter såvel som svensk. Hans kommando over dansk er sandsynligvis begrænset til, hvad han har brug for det bureaukrati, han har brug for at navigere, idet han er en indvandrer på et dansk område.

I betragtning af lingua francas hentede Nicholas sandsynligvis nogle af disse også. Det er meget sandsynligt, at han hentede fingua francas (bortset fra latin, lingua franca fra de romerske kolonier, og græsk, en lingua franca i mange af de gamle byzantinske kolonier, som han må have lært som en indfødt). Han lærte tysk, som jeg allerede har beskrevet, enten mens han boede i det nordlige Tyskland i den sene hanseatiske tid, hvor tysk var et handelssprog, eller mens han rejste gennem det, fejlagtige, hellige romerske imperium, hvor lavtysk var lingua franca. Han taler sandsynligvis noget fransk, som var en lingua franca over hele Europa fra omkring 1700, og som er stadig meget fremtrædende som en lingua franca i mange områder i verden. Han kender sandsynligvis også noget spansk, i betragtning af at han boede i Holland, mens spansk var en lingua franca der.
Til lykke, Peter, du er blevet kontaktet i.f.m. din præmie(r)! 
Denne uges (to) quiz – på dansk
Denne liste viser nytårshilsener på 15 sprog. Sprogene er anført alfabetisk baseret på deres danske navne.
(a) ilufio ètussé                      
(b) gëzuar vitin e ri                 
(c) shnorhavor nor tari                      
(d) nwii lam / ngand nwii lam
(e) bloavezh mat / bloavez mad        
(f) e glëckliches nëies / güets nëies johr
(g) head uut aastat                
(h) lokkich nijjier                    
(i) nutan Varshbhinandan                  
(j) hauoli makahiki hou                      
(k) newroz pirozbe                 
(l) saleh now mobarak                       
(m) noothana samvatsara shubhakankshalu
(n) boldog uj evet                  
(o) blwyddyn newydd dda     
(1) Syv af disse 15 sprog tales i Europa som traditionelle sprog (dvs. uden sprog der tales af nylige indvandrer). Hvilke syv sprog er de? Europa defineres her, af hensyn til klarhed, som de stater, der er medlemmer af Den Europæiske Union.
(2) Ni af disse sprog tilhører den indoeuropæiske sprogfamilie. Hvilke ni sprog?
To spørgsmål, to præmier. Det bedste svar vinder. Attraktive bøger og dvd'er som præmier. Send dit svar til: quiz@lingoblog.dk, senest den 28. januar 2020, kl. 12.
This week's language quiz in English
This Table lists New Year's greetings in 15 languages. The languages are listed alphabetically by their English names.
ilufio ètussé
gëzuar vitin e ri
güets nëies johr
shnorhavor nor tari
ngand nwii lam
bloavezh mat
head uut aastat
lokkich nijjier
nutan varshbhinandan
hauoli makahiki hou
boldog uj evet
newroz pirozbe
saleh now mobarak
noothana samvatsara shubhakankshalu
blwyddyn newydd dda
(a) Seven of these 15 languages are spoken in Europe as traditional languages (i.e. not taking recent immigration into account). Which seven languages are they? Europe is defined here, for the sake of explicitness, as the states that are members of the European Union.
(b) Nine of these languages belong to the Indo-European language family. Which ones?
Two questions, two prizes. The best answer wins. Attractive books and DVDs as prizes. Send your reply to: quiz@lingoblog.dk at the latest January 28 2020, noon.
Attractive prizes
Please note that we have obtained an attractive collection of books, added to the desirable books we already had available. We ship all over the world.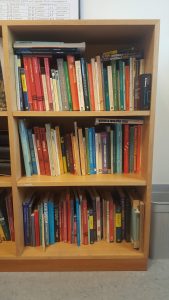 Quizzens vindere i 2020. Wall of Fame/Æresgalleri
Sidste år have vi haft 33 forskellige prisvindere. Vi sender præmier over hele verden.
Last year we gave prizes to 33 different winners. We ship all over the world.
Peter Aagaard Sørensen, Berlin.