med/with quizmaster Peter Bakker
Ugens quiz: Frist mandag 18. Februar
Denne uges quiz
Send dit svar senest kl. 12 den 19. Februar til : quiz@lingoblog.dkog vind en sprogbog, og vær med i en lotteri om en Ipad.
This week's quiz: visual language:  pigs' ears notching
A difficult quiz this time!
This photograph shows eight works of art by the Danish-Dutch artist Jaap de Ruig.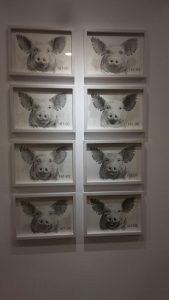 The drawings show pigs whose ears have been cut. Some people eat pigs' ears, other people indeed cut them. They have a special tool for this, so they can cut out small triangles from the ear. Ear notching, it is called.
The left ear (for the viewer) shows the litter of the pig, usually a high number, and the right ear shows the individual. As all pigs are brothers and sisters of litter 161, the left ear is therefore always the same. It indicates 161.
The right ear, however, is different for all the pigs. Each ear is cut in a way that it shows the individual numbers that are indicated on the ear.
THE QUESTION IS: HOW DOES THIS WRITING/NUMBERING SYSTEM FOR THE RIGHT EAR WORK???? How would number 9 be cut?
Two linguistic books can be chosen by the winner!
Send your answer to: quiz@lingoblog.dk at the latest Monday February 18, noon, and compete for an Ipad or a book on language or linguistics.
Sidste uges quiz/Last week's quiz
Teksten på Sigøjnermonumentet på Romani er:
Putrav lesko drom angle leste te na inkrav lemai but palpale mura brigasa.
På Nederlandsk og Engelsk:
Stel hun weg in het nieuwe leven voor hen open en verlos hen van de banden van het verdriet.

Imagine their way into the new life open to them and save them from the bonds of sorrow
WALL OF FAME/Æresgaleri:
quizzens vindere i 2018
Byurakn Ishkhanyan, København/Copenhagen
Jeroen Willemsen, Aarhus
Andrea Siem, Aarhus
Anne Mahler Schmidt, Aarhus
Jacek Kudera, Finland
Iñaki Etxegoyen, Paris
Thomas Nielsen, Varde
Julie Dolleris, Aarhus
Vincent Jørgensen, Aalborg
Johanne Vejrup Nielsen, Aarhus
Tine Hansen, Odense
Jakob Steensig, Aarhus.
P Dhant, ukendt
Timon Holm, Midtjylland; Mandarin phrasebook & en bog for sprogundervisere
Hartmut Haberland, Sjælland.
Hanna Birkelund, Sjælland, en bog med artikler skrevet af AU lingvister og Ole Togeby Stiltræk.
Peter Aagaard Sørensen, Tyskland. Creole Studies – Phylogenetic Approaches & "What is the Romani language?"
Rasmus Puggaard, Aarhus: en lærebog om statistik for psykologer.
Søren Sørensen, Aarhus
Kim Jones, California: Creole Studies – Phylogenetic Approaches.
Ole Hansen,  Aalborg: Anders Lund Madsens ÆØÅ
Thomas Widmann, Scotland: Dholuo without tears. Esperanto Lærebog.
Tracy Skondin, Jutland: Etymological Dictionary of the English Language.
Hartmut Haberland, Zealand: Teach yourself Mandarin. Chinese Dictionary. 
Søren Nørrelund-Madsen, Zealand. ???
Susanne Benjamin, Jutland: Swahili Dictionary. 
Sara Lee; Zealand. ???