Ugens quiz. Om en kort tekst på en bilnøgle.
Nogle mennesker, vi kender, købte en brugt og temmelig luksuriøs bil fra en medborger af tyrkisk oprindelse. Da de fik bilnøglerne, var der en tekst i et skript, de ikke kendte. De spurgte os, om vi kunne hjælpe dem. Det kunne vi. Kan du? Spørgsmålene denne uge er:
(1) Hvad kaldes dette skrivesystem, og til hvilket sprog eller hvilke sprog blev det/bliver det brugt?
(2) Hvad betyder teksten/ordet?
Læsere kan besvare de to spørgsmål hver for sig, og vi giver en præmie for begge spørgsmål. Både den lette (?) Ene og den svære (?).
Send dit svar senest mandag den 18. oktober kl. 8.30, dansk tid. til quiz@lingoblog.dk. Og vind en eller flere flotte præmier! Især bøger om sprog og lingvistik! Eller dvd'er. Eller T-shirts. Du kan vælge!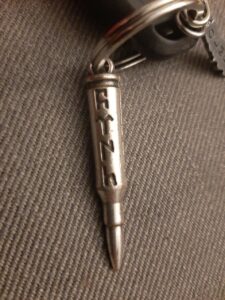 Quiz of the week. About a brief text (word?) on a car key.
Some people we know bought a used fairly luxurious car from a co-citizen of Turkish origin. When they got the car keys, there was a text in a writing system they did not know. They asked us whether we could help them. We could. Can you? That is what we ask in this week's quiz. The questions are:
What is the name of this writing system is it, and for which language(s) was/is it used?
What does the text/word mean?
Readers can reply to the two questions separately, and we offer a prize for both questions. Both for the easy (?) one and the difficult (?) one.
Send your answer no later than Monday October 18 at 8.30 (Denmark time) to quiz@lingoblog.dk. And win one or more great prizes! Especially books on language and linguistics! Or DVDs. Or T-shirts. You can choose!
Last week's quiz: and the winner is…
We asked what typical traits one finds in the ca. eight sentences in Gessica Puccini's article on Belta Creole, a fictitious creole from a science fiction series The Expanse. We asked to what extent this fictitious creole from outer space resembled real creole languages spoken on planet earth. The winner this week is the eminent creolist Jeff Siegel from Armidale, Australia. He identified no fewer than 17 typically creole traits, both in the sociolinguistic and the grammatical realm. Here is his answer in full:
Typically Creole Traits of Lang Belta:
Three levels of Lang Belta: Pure Belta, Medium Belta, and Light Belta, depending on relationship with lexifier (corresponding to basilect, mesolect and acrolect: note acrolectal Australian Kriol is often referred to as "light Kriol")

The lexifier is the official language used in judicial matters.

It does not have a fixed orthography (cf. Hawai'i Creole)

No consonant clusters (cf. some varieties of Tok Pisin)

No grammatical tones

Categorized as an analytic or isolating language, as it uses a high quantity of particles and does not show cases of morphological inflection.

Gender-neutral language

Shows number by adding quantifiers or directly using numerals.

Verbs do not use inflection to indicate who/what the verb is referring to (cf. Tok Pisin).

Verbs remain unvaried for all persons and tenses (cf Tok Pisin)..

Particles are added to clarify tense and aspect:ta'past tense particle', gonya 'future tense particle', ando 'continuous aspect' finyish 'perfective aspect, til 'habitual aspect'. (cf Bislama bin, bai, stap, finis, save)

No copula like English 'is'. The verb bi ('to be') appears to be omitted in all cases except for expressing the concept of "being in a place". (cf stay in Hawai'i Creole: My sista skinny. vs Da cat stay in da house.)

Negative particle placed before the verb.

An interrogativeparticle  placed at the end of a question. (cf.Saramaccan)

The interrogative words are placed at the beginning of the sentence:

SVO language, i.e. subject-verb-object.

Possessives and adjectives placed after nouns (cf.Haitian Creole: Kreyon mwen 'my pencil'; Tok Pisin man nogut 'bad man')
Jeff Siegel, congratulations, you are the winner. You will be contacted separately about your prize. It will be sent to you Down Under.
Sidste uges quiz: og vinderen er …
Vi spurgte, hvilke typiske træk man kan finde i de ca. otte sætninger i Gessica Puccinis artikel om Belta Creole på Lingoblog. Dette sprog er en fiktiv kreol fra en science fiction -serie The Expanse. Vi spurgte i hvilket omfang denne fiktive kreol fra det ydre rum (og 200 år i fremtiden) lignede ægte kreolske sprog, der blev talt på planeten jorden. Vinderen i denne uge er den eminente creolist Jeff Siegel fra Armidale, Australien. Han identificerede ikke færre end 17 typiske jordisk-kreolske træk, både på det sociolingvistiske og det grammatiske område, som man også finder i Belta Creole. Her er hans svar i sin helhed:
Typisk kreolske egenskaber ved Lang Belta:

Tre niveauer af Lang Belta: Pure Belta, Medium Belta og Light Belta, afhængigt af forholdet til lexifier (svarende til basilect, mesolect og acrolect i kreolsprog: bemærk at acrolektisk Australian Kriol kaldes ofte "light Kriol")

Leksifier (sproget hvor det meste af ordforråd kommer fra) er det officielle sprog, der bruges i retsspørgsmål.

Sproget har ikke en fast retskrivning (jf. Hawai'i Creole)

Ingen konsonantklynger (jf. Nogle sorter af Tok Pisin)

Ingen grammatiske toner

Kategoriseret som et analytisk eller isolerende sprog, da det bruger en stor mængde partikler og ikke viser tilfælde af morfologisk bøjning.

Kønsneutralt sprog

Viser tal ved at tilføje kvantifikatorer eller direkte ved hjælp af tal.

Verber bruger ikke bøjning til at angive hvem/hvad verbet refererer til (jf. Tok Pisin).

Verber forbliver uændrede for alle personer og tider (jf. Tok Pisin) ..

Partikler tilføjes for at tydeliggøre tense og aspekt: ​​ta 'fortidspartikel', gonya 'fremadrettet partikel' og 'kontinuerligt aspekt' finish 'perfektiv aspekt', til 'habituel aspekt'. (jf. Bislama- sproget fra Vanuatu bin, bai, stap, finis, save)
Ingen kopula som engelsk 'er'. Verbet bi ('at være') ser ud til at være udeladt i alle tilfælde bortset fra at udtrykke begrebet "at være på et sted". (jf. stayin Hawai'i Creole:My sista skinny. vs Da cat stay in da house.)

Negativ partikel placeret foran verbet.

En spørgepartikel placeret i slutningen af ​​et spørgsmål. (jf. Saramaccan)

Spørgsmålsord er placeret i begyndelsen af ​​sætningen

SVO-sprog, dvs. subjekt-verbum-objekt rækkefølge

Possessive og adjektiver placeret efter navneord (jf. Haitisk kreolsk: Kreyon mwen 'min blyant'; Tok Pisin man nogut'(en) dårlig mand')
Jeff Siegel, du er vinderen denne uge. Du vil blive kontaktet separat om din præmie. Den vil sendes til dig Down Under.
Quizzens vindere i 2021. Winners 2021.
Wall of Fame. 

Æresgalleri.
Sidste år (2020) har vi haft 34 forskellige prisvindere og uddelt 44 præmier. Vi sender præmier over hele verden.
Last year (2020) we gave 44 prizes to 34 different winners. We ship all over the world.
This year's winners thus far/

Vindere i år indtil i dag:
Jeff Siegel (Armidale, Australia)
Holger Juul (København)
Gilad Singer (Fyn)
Margit Hansen (Billund)
Emily Jørgensen (Horsens) (Sønderjyske Digte)
Byurakn Ishkhanyan (København) (Ole Togeby – Fungerer denne sætning)
Lise Skov Sørensen (en bog om neurolingvistik)
Amalie S.K. Jensen
Rebekah Baglini
Stephanie Andersen (Aarhus)
Lena Hansen (Aarhus)
Lucas Forchhammer (København) (Sprog og sprogbeskrivelse, af: Michael Herslund & Bente Lihn Jensen (red.)
Anders Yde (Aarhus) (Anders Lund Madsens ÆØÅ)
Wolfgang Kirschstein (Valby), Die skandinavischen Sprachen im Überblick, af Kurt Braunmüller)
Ditte Verzonnen (Tilburg, Netherlands/Nederlandene) (Karl Verner – Afhandlinger og breve)
Andreea Mantalina Balas (Greece/Grækenland), Introducing Multilingualism. A social approach, af Jean-Jacques Weber & Kristine Horner.
Arnfríð Petra Mamangun (Færøerne)
Sofia Navarro (Aarhus) (

Spanglish (DVD) &  Ser/Estar og Udsigelsen, af Lene Fogsgaard)Charlotte Olden-Jørgensen (Helsinge) (a CD with Icelandic choir music by Augnkarlakórinn (yes, we also have CDs as prizes)
Rasmus Underbjerg Pinnerup (København) (Flerkulturel Håndbog af Lone A. Sperschneider, Mette Mølgaard; Fungerer Denne Sætning, af Ole Togeby)
Sin Yee Melody (Lily) Li (Hongkong) (Advances in Contact Linguistics: In honour of Pieter Muysken, ed. by E. Aboh, N. Smith & T. Veenstra)
Marcus Holst (Aarhus) (Is God an American? An Anthropological Perspective on the Missionary Work of the Summer Institute of Linguistics;Windtalkers (DVD), about Amerindian codetalkers in WWII; Mellem to sprog, af Thomas Harder.
Thomas Nielsen (Varde) (Strikkedesigneren Bente Geil (DVD); Island Life (DVD); Japan: Mellem Øst og Vest, af Annette Skovsted Hansen & Lene Ipsen; Polnisch
Signe Sønderholm, aarhus (Symbolic Transformation: The Mind in Movement Through Culture and Society, edited by Brady Wagoner)
Antonella Torzullo (Wien, Vienna) (twice) and Rosaura Cauchi (Vienna, Wien) (Arabic – The Source of All the Languages, by Mazhar, Mohammad Ahmad; Bog på Tigrinja/book in Tigrinya; Arabische Grammatik
Morten Andersen (Odense) (Viveka Velupillai "Pidgins, Creoles and Mixed Languages", Benjamins 2015)
Peer Bundgaard (Paris) (DVD Scorsese "The Departed", DVD "The Hours").
Anders Mortensen (Aalborg) (Peter T. Daniels, The World's Writing systems)Rasmus Puggaard (Leiden) (Udtalt. En introduktion til dansk fonetik af Jan Heegård Petersen, Holger Juul, Nicolai Pharao og Marie Maegaard)
Kristoffer Friis Bøegh (Aarhus) (Manual i fagleksikografi: udarbejdelse af fagordbøger – problemer og løsningsforslag by Henning Bergenholtz)
Line Geertsen (Danmark) (Teorien om alt Teorien om alt og andre artikler om sprog og filosofi, red. af Jens Cramer, Mette Kunøe,  Ole Togeby; Moders stemme, fars hammer af  Niels Davidsen-Nielsen)
Jakob Steensig, Aarhus (A New Russian Grammar & Designing Interactive Systems)Susan Bjørn (Festskrift til Peter Skautrup, redigeret af Svend Aakjaer, Kr. Hald, Aage Hansen, Niels Åge Nielsen)
Anne Leth Sørensen, 

Odense (

Læseforståelse – hvorfor og hvordan?, af Merete Brudholm; Kulturens Gesandter: Fremmedordene i dansk, af Erik Hansen & Jørn Lund)
Stephanie Andersen (Semantiske roller; og Tidsskrift for Sprogforskning – kasus, sætningsled og semantiske roller)We may still owe prizes to the following persons from last year, delayed because of Covid-19:Peter Aagaard Sørensen, Berlin.Nikita J. Myrting, AarhusTine Lykkegaard Nielsen
Jon Lapresa-Serrano