Ugens quiz/quiz of the week
Ved Quizmaster Peter Bakker
Deadline/Frist: June 17.
This week's quiz is a question found in the language quiz of the European Center for Modern Languages in Austria.
Diese Woche ist das Quiz ieine Frage aus dem Sprachquiz des Europäischen Zentrums für moderne Sprachen in Österreich.
Denne uge handler quizzen om tegnsprog. Spørgsmålet kommer fra en Quiz af det Europæiske Center for Moderne Sprog i Østrig.
Question: Where do sign languages come from?
(1)       They have been copied to the great apes living in Africa.
(2)       They were invented by the French Abbé de l'Epée between 1760 and 1789
(3)       They have been created in the language laboratory from the Gallaudet University (USA)
(4)       They emerged naturally where deaf people were gathered together and are present also in some indigenous populations
https://edl.ecml.at/Games/LanguageQuiz/tabid/1873/AreaID/7/language/en-GB/Default.aspx
Frage: Woher kommen Gebärdensprachen?
(1)       Sie wurden von den in Afrika lebenden Menschenaffen kopiert
(2)       Sie wurden zwischen 1760 und 1789 vom französischen Abbé Charles-Michel de l'Épée erfunden
(3)       Sie wurden im Sprachlabor der US-amerikanischen Gallaudet University entwickelt
(4)       Sie sind auf natürliche Weise dort entstanden, wo gehörlose Menschen sich versammelt haben und werden auch von einigen indogenen Völkern verwendet
https://edl.ecml.at/Games/LanguageQuiz/tabid/1873/AreaID/7/language/de-DE/Default.aspx
Hvad er det korrekte svar? Send dit svar senest kl. 12 den 17. Juni til: quiz@lingoblog.dk
What is the correct answer? Send your answer before June 17, noon to: quiz@lingoblog.dk
Was ist die korrekte Antwort? Senden Sie Ihre Antwort vor dem 17. Juni, 12.00 Uhr, an: quiz@lingoblog.dk
And the winner is…
Spørgsmålet var sidste uge: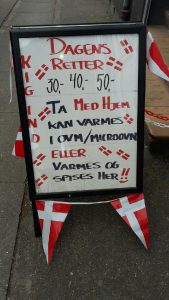 På dette billede findes i hvert fald to ord der er stavet på en ukonventionel måde.  Hvilke lingvistiske termer bruges for de to fænomener, som har påvirket stavemåden? To præmier, en for hvert ord.
In this picture there are at least two Danish words spelled in an unconventional way. Which linguistic terms are used for the two phenomena that have influenced the spelling? Two prizes, one for each word.
Svaret er: assimilation i "ovm" /owm/ fra /ownn/, and deletion/konsonantdrop <ta> from <tag>. Der er også andre muligheder/termer. Vinderen er Mads Hansen fra Aabenraa. Tillykke!
WALL OF FAME/Æresgaleri
Quizzens vindere i 2019. Wall of Fame.
Mads Hansen, Aabenraa
Susan Bjørn, Odense
Jakob Steensig, Aarhus
Thomas Nielsen, Varde (Welsh syntax, + een boek in het Nederlands: al-ter-na-tief ABC)
Louise Jensen
Katrine Madsen, Aarhus ("Rid i nat", udgivet af Dansklærerforeningen)
Louise Frederikke Høgh Larsen, Odense (Otto Jespersen. Børnesprog; Birte N. Nielsen. Nøgle til de spanske verber)
Maria Andersson, Aalborg (Olsson J. (2008), Forensic Linguistics)
Carmen Rodríguez, Montevideo (Gramatica Cocama)
Wolfgang Glob, München (Indo-Europäische Sprachgeschichte)
Peter Aagaard Sørensen, Sønderjylland (Lewis – Teach yourself Turkish; Gurli Hauschildt – Handelsfaglig Ordbog dansk-tysk).
Jakob Kristen Winter Overgaard, Aarhus
Cefas van Rossem, Netherlands (Highfield, Arnold R.; Bøegh, Kristoffer F. 2018. Georg Hjersing Høst's Account of the Island of St. Thomas and Its Governors : Recorded there on the Island from 1769 until 1776)
Byurakn Ishkhanyan, København/Copenhagen
Jeroen Willemsen, Aarhus