Ugens quiz om en etiket.
Denne uges quiz blev bidraget af Jeroen Willemsen. Han vinder også en bog for denne gode gerning, som alle der bidrager med en quiz. Han tilføjer, at quizzen er "ikke for svært". Der er for mange flotte præmier der vindes af de samme individer, nu er det din tur at vinde! Her er spørgsmålet:
Der gik noget galt under oprettelsen af denne etiket. Hvad er det, og hvorfor gik det galt?
Send dit svar/dine svar senest MANDAG den 21. September kl. 8.30 til quiz@lingoblog.dk. Og vind en eller flere flotte præmier!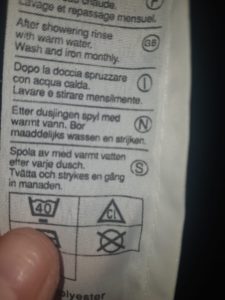 Quiz of the week about a label
This week's quiz was contributed by Jeroen Willemsen. He adds that it is "not too difficult". As a quiz contributor, he also wins a book. Now it is your turn to win a book. This is the question:
Something went wrong during the making of this label. What is it, and why did it go wrong?
Send your answer by MONDAY September 21, 8.30 A.M., to quiz@lingoblog.dk. And win one or more great prizes. Linguistic books, for instance. Prizes are sent out worldwide.
Sidste uges quiz. Og vinderen er … (igen)
Sidste uges quiz handlede om Esperanto. Der kom kun ét svar, og det var, igen, Marcus Holst, som allerede vandt bøger i år for flere tusinde kroner. Så han vandt igen. Spørgsmålet var: hvor har Esperanto været et officielt sprog? Marcus Holsts svar er:
Esperanto har været det officielle sprog i to micronationer, nemlig republikken Rose Island (som lå i Adriaterhavet ved Italiens kyst) og republikken Molossia (som ligger i den amerikanske stat Nevada). Ingen af disse to har været anerkendt som selvstændige stater. 
Ja, det er fuldstændig korrekt. Jeg har en plan at skrive et indlæg om sprog i micro-nationer en gang, og der var flere der valgte Esperanto som deres sprog. Men der mangler ét stat, som faktisk var, i en kort periode, et anerkendt land, og det var Neutrale Moresnet. Landet eksisterede som sådan fra 1918 til 1920, og grænsede til Belgien, Nederlandene og Tyskland. Esperanto var ét af de officielle sprog. I 1920 blev det del af Belgien.
            Til lykke Marcus, du bliver kontaktet om endnu en præmie.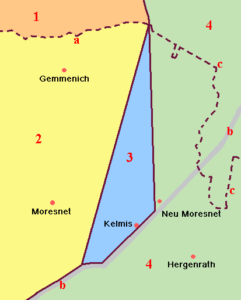 Last week's quiz. And the winner is…. (again…)
Last week's quiz was about Esperanto. There was only one (1) answer, and that was, again, Marcus Holst, who already won books this year for several thousand kroner. So he won again. The question was: where has Esperanto been an official language? Marcus Holst's answer is:
Esperanto has been the official language of two micronations, namely the Republic of Rose Island (located on the Adriatic coast off the coast of Italy) and the Republic of Molossia (located in the US state of Nevada). Neither of these two have been recognized as independent states.
Yes, that's completely correct. I have a plan to write a post about languages ​​in micro-nations one time for Lingoblog and there were several who chose Esperanto as their language. But one state is missing, which in fact was, for a short period, a recognized country, and that was Neutral Moresnet. The country existed as such from 1918 to 1920, and bordered Belgium, the Netherlands and Germany. Esperanto was one of the official languages. In 1920 it became part of Belgium.
Congratulations Marcus, you will be contacted for another prize!
Attractive prizes
Please note that we have obtained an attractive collection of books, added to the desirable books we already had available. We ship all over the world.The winner of the weekly quiz can win a prize, but also readers/followers who contribute with a language quiz for Lingoblog!
Quizzens vindere i 2020. Wall of Fame/Æresgalleri
Sidste år have vi haft 33 forskellige prisvindere. Vi sender præmier over hele verden.
Last year we gave prizes to 33 different winners. We ship all over the world. This year's winners:
Peter Aagaard Sørensen, Berlin.
Yonatan Goldshtein, Aarhus (Nina Grønnum, Groundworks of Danish Intonation. en klassiker.)
Jeroen Willemsen, Aarhus (Th. Bynon, Historical Linguistics, Cambridge UP, og Comrie's Language Universals and Linguistic Typology. 2nd edition; The Sixth Extinction by Richard Leakey. )
Sofia Navarro, Aarhus (Steven Pinker. The Language Instinct)
Nikita J. Myrting, Aarhus
Thomas Widmann, Bogense (Teach yourself Samoan)
Anne Leth Sørensen, Odense 
Natasha Videbæk, Aarhus (Bill Bryson – Mother Tongue)
Simon Poulsen, København (Andersen & Hjelmslev: Fonetik; Blöndal & Stemann: Praktisk Lærebog i Islandsk Nutidssprog)
Bastian Solås (Karker: Dansk i Tusind År)
Jeannette Stronks, Amsterdam (David Crystal: Language Death)
Elena Ghiretti (DVD "Babel"-film; Dalby: Language in Danger)
Hartmut Haberland (Mirambel: Grammaire du Grec Moderne; Hauschildt: Handelsfaglig ordbog)
Tine Lykkegaard Nielsen
Joshua Nash, Australia (filmen "Pontypool" fra Canada, om et sprogligt virus)
Thomas Widmann, Bogense (Teach Yourself Swahili, Teach yourself Turkish)
Arnfríð Højgaard, Færøerne (De Swart: Natural Language Semantics; Karker: Dansk i Tusind År; Dixon. The Rise and Fall of Languages)
Sequoia Edwards, USA/Sweden (Hinton. Flutes of Fire)
David Robertson, USA (Cefas van Rossem, Hein van der Voort. Die Creool Taal. 250 years of Negerhollands texts).
Anne Mahler Schmidt, Aarhus (Indian English. Towards a New Paradigm. Agnihotri & Singh (red.)
Rebekah Baglini, Aarhus (Danish. A Grammar. W. Glyn Jones & Kirsten Gade. + Chomsky's Universal Grammar. An Introduction)
Fleming André Philip Ravn, Charlottenlund (J. Wells – Esperanto)
Marcus Holst  (Universal Self Hindi Teacher by Sd. S. Radhakrishnan; Hopper and Traugott – Grammaticalization; Pragmatics and Linguistics. Festschrift for Jacob L. Mey; The Palgrave Handbook of Motivation for Language Learning. Eds. Lamb et al.)