med/with quizmaster Peter Bakker
Quiz ved Special Guest Quizmaster Kristoffer Friis Bøegh!
Som vores tilhængere ved, bliver quizzernes læsere inviteret til at sende gæstequizzer, og så vil du automatisk være en vinder: dem der indsender en gæstequiz får en sproglig bog efter eget valg, der vælges blandt de hundredvis af bøger, som er til rådighed. Denne gang har vi en gæstequiz, sendt af Kristoffer Friis Bøegh, og jeg må indrømme, at det virkede lidt pinligt, da jeg så, hvad emnet er.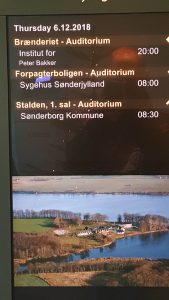 Gæstequizmasteren spottede for nyligt følgende infotavle på et AU-ejet mødecenter et sted i Jylland. Ugens quiz har to delspørgsmål:
– Hvor er billedet taget?
– Og hvad laver man egentlig på "Institut for Peter Bakker"?
Deadline for svar er om tre uger på grund af vinterpause, fredag den 18 Januar kl. 12. Det mest opfindsomme svar vinder!
QUIZ IN ENGLISH
As our followers know, readers of the quiz are invited to send in guest quizzes, and then you will automatically be a winner: senders of guest quizzes get a linguistic book of their choice, to be chosen from the hundreds that are available. This time we have a guest quiz, sent in by Kristoffer Friis Bøegh, and I have to admit that it is a bit embarrassing when I saw what the topic is.
The guest quizmaster recently spotted the following information board at an AU-owned meeting center somewhere in Jutland. This week's quiz has two sub-questions:
– Where is the picture taken?
– And what are they really doing at "Institute for Peter Bakker"?

The deadline for answers is in three weeks from now because of the winter break, that is Friday January 18 at noon. The most inventive answer wins!
Last week's quiz: And the winner is…..
Jeroen Willemsen, and here are his three answers to the three questions, so three books for him!
The question asks in how many European countries these languages (English, Dutch and Danish) will be an official language, whereas what changes is in how many EU countries they are an official language. I will assume it is not a trick question and go by EU countries.

The answer to each is two​.

After Brexit, English will be the official language in two EU countries – Malta and Ireland.

Danish is an official language in Denmark, Greenland and the Faroese Islands. However, the Faroese Islands are not part of the EU and Greenland, although having many ties with the EU, is not part of the EU either. Danish is therefore an official language is one country, Denmark. In addition, it is also a recognised minority language in Schleswig-Holstein in Germany.

Dutch is an official language in the Netherlands and Belgium, as well as a number of smaller island states in the Caribbean – Aruba, Bonaire, Curaçao, Sint-Maarten, Saba and Sint-Eustatius. None of these islands states are part of the EU however, so Dutch is an official language in two EU countries.
This answer is correct, even though one could add that Dutch is also a semi-recognized minority language in France. If one takes into consideration that English is official in Malta and Ireland beside another national language, then both Danish and Dutch will be more important in the sense of numbers of countries and numbers of speakers in the EU than the English language. The time has come to diminish the use of the marginalised English language.
WALL OF FAME/Æresgaleri: quizzens vindere i 2018
Jeroen Willemsen, Aarhus
Andrea Siem, Aarhus
Anne Mahler Schmidt, Aarhus
Jacek Kudera, Finland
Iñaki Etxegoyen, Paris
Thomas Nielsen, Varde
Julie Dolleris, Aarhus
Vincent Jørgensen, Aalborg
Johanne Vejrup Nielsen, Aarhus
Tine Hansen, Odense
Jakob Steensig, Aarhus.
P Dhant, ukendt
Timon Holm, Midtjylland; Mandarin phrasebook & en bog for sprogundervisere
Hartmut Haberland, Sjælland.
Hanna Birkelund, Sjælland, en bog med artikler skrevet af AU lingvister og Ole Togeby Stiltræk.
Peter Aagaard Sørensen, Tyskland. Creole Studies – Phylogenetic Approaches & "What is the Romani language?"
Rasmus Puggaard, Aarhus: en lærebog om statistik for psykologer.
Søren Sørensen, Aarhus
Kim Jones, California: Creole Studies – Phylogenetic Approaches.
Ole Hansen,  Aalborg: Anders Lund Madsens ÆØÅ
Thomas Widmann, Scotland: Dholuo without tears. Esperanto Lærebog.
Tracy Skondin, Jutland: Etymological Dictionary of the English Language.
Hartmut Haberland, Zealand: Teach yourself Mandarin. Chinese Dictionary. 
Søren Nørrelund-Madsen, Zealand. ???
Susanne Benjamin, Jutland: Swahili Dictionary. 
Sara Lee; Zealand. ???