Ugens quiz: en 13-årig polyglot, der taler 20 sprog
Wouter Corduwener er en nederlandsk polyglot, der har en youtube-kanal, hvor han overrasker folk med at kunne tale med dem på snesevis af forskellige sprog. For et par måneder siden interviewede han en meget talentfuld ung sproglærer. Cameron, i en alder af 13 år, født i USA, har lært at tale på mindst 20 sprog. Wouter Corduwener, som selv taler af snesevis af måske 30 sprog eller mere, indrømmer, at Cameron taler nogle sprog bedre end han selv gør. Det er virkelig meget imponerende, hvad 13-åringen gør. Men er det fejlfrit? Vælg et hvilket som helst sprog (men ikke engelsk) på listen, og prøv at finde fejl. P.s.: Denne quiz er bestemt ikke at nedgradere nogen, ikke mindst Cameron, hvis sprogfærdigheder er fantastiske, men måske ikke helt perfekte.
Sprog: 0:00 Engelsk 0:36 Spansk 2:18 Mandarin 4:27 Taiwansk 4:33 Koreansk 5:41 Japansk 8:25 Hawaiiansk 10:05 Brasiliansk portugisisk 11:13 Fransk 11:29 Tysk (østrigsk) 13:14 Vietnamesisk 13:54 Russisk 14:26 Ukrainsk 14:51 Arabisk 15:07 Hindi 18:44 Hochdeutsch 19:28 Thai 19:50 Indonesisk 21:15 Nederlandsk 21:30 Finsk 21:55 Tagalog
Send dit svar/dine svar senest MANDAG den 28. September kl. 8.30 til quiz@lingoblog.dk. Og vind en eller flere flotte præmier! 
This week's quiz: a 13-year old polyglot speaking 20 languages
Wouter Corduwener is a Dutch polyglot, who has a youtube channel in which he surprises people with being able to speak with them in dozens of different languages. A few months ago, he interviewed a very talented young language learner. Cameron, at age 13, born in the USA, has learned to converse in at least 20 languages. Wouter Corduwener, a speaker of dozens of languages, is ready to admit that Cameron speaks some languages better than he himself does. It is indeed hugely impressive what the 13-year old does. But is it flawless? Pick any one language from the list, and try to find errors. P.s.: This quiz is emphatically not to downgrade anybody, not the least Cameron, whose language skills are amazing but perhaps not all perfect.
https://www.youtube.com/watch?v=hFrkkqjPodc
Languages: 0:00 English 0:36 Spanish 2:18 Mandarin 4:27 Taiwanese 4:33 Korean 5:41 Japanese 8:25 Hawaiian 10:05 Brazilian Portuguese 11:13 French 11:29 German (Austrian) 13:14 Vietnamese 13:54 Russian 14:26 Ukrainian 14:51 Arabic 15:07 Hindi 18:44 Hochdeutsch 19:28 Thai 19:50 Indonesian 21:15 Dutch 21:30 Finnish 21:55 Tagalog
Send your answer by MONDAY September 28, 8.30 A.M., to quiz@lingoblog.dk. And win one or more great prizes. Linguistic books, for instance. Prizes are sent out worldwide.
Sidste uges quiz. And the winner is….
Sidste uges quiz blev bidraget af Jeroen Willemsen. Spørgsmålet var:
Noget gik galt under fremstillingen af ​​denne etiket. Hvad er det, og hvorfor gik det galt? Jeroen Willemsen var også dommer.
Marcus Holst siger, at den engelske oversættelse skal sige "vask" snarere end "brusebad". Instruktionerne henviser faktisk til "brusebad" – de vil have dig til at skylle det efter hvert brusebad (hvad quizzen ikke gjorde klart, er at dette er en etiket på et bruseforhæng – jeg (JW) har aldrig mødt en, der skyller deres badeforhæng efter hvert brusebad, men det er det, de i det mindste vil have dig til at gøre).
Ifølge Alona Chaika var det, der gik galt, hvad der var inde i cirklen til den engelske oversættelse, der ligner tallet 35. Der står faktisk "GB", som står for Storbritannien, men vi er på rette spor med disse cirkler.
Byurakn Ishkanyan siger, at bogstavet N har forvirret oversætterne, fordi det kan stå for både Nederland og Norge.
Korrekt! Hvis du ser på den norske oversættelse, lige midt i en sætning (efter 'bor') skifter den til nederlandsk, komplet med stavefejl. Hvordan de var i stand til at ødelægge sådan en simpel opgave på en så spektakulær måde er nogens gæt, men hvad der er sikkert er, at Byurakn vinder ugens bog. Շնորհավորանքներս! / Gratulerer! / Gefeliciteerd! Til lykke!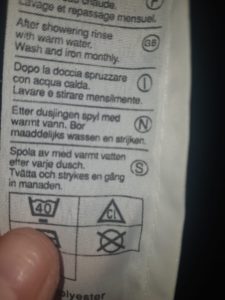 Last week's quiz: and the winner is….
Last week's quiz was contributed by Jeroen Willemsen. The question was:
Something went wrong during the making of this label. What is it, and why did it go wrong? Jeroen Willemsen was also the judge.
Marcus Holst says that the English translation should say "washing" rather than "showering". In fact, the instructions do mean to say "showering" – they want you to rinse it down after each shower (what the quiz didn't make clear is that this is a label on a shower curtain – I (JW) have never met anyone who rinses down their shower curtain after every shower, but that's what they want you to do at least).
According to Alona Chaika, what went wrong was what's inside the circle for the English translation, which looks more like the number 35. It actually says "GB", which stands for Great Britain, but we're on the right track with those circles.
Byurakn Ishkanyan says that the letter N has confused the translators in that it can stand for Netherlands as well as Norway.
Correct! If you look at the Norwegian translation, right in the middle of a sentence (after 'bor') it switches to Dutch, complete with spelling mistakes. How they mananged to mess up a simple task in such a spectacular fashion is anybody's guess, but what is certain is that Byurakn wins a book. Շնորհավորանքներս!/gratulerer!/gefeliciteerd! Til lykke!
Quizzens vindere i 2020. Wall of Fame/Æresgalleri
Sidste år have vi haft 33 forskellige prisvindere. Vi sender præmier over hele verden.
Last year we gave prizes to 33 different winners. We ship all over the world. This year's winners:
Peter Aagaard Sørensen, Berlin.
Yonatan Goldshtein, Aarhus (Nina Grønnum, Groundworks of Danish Intonation. en klassiker.)
Jeroen Willemsen, Aarhus (Th. Bynon, Historical Linguistics, Cambridge UP, og Comrie's Language Universals and Linguistic Typology. 2nd edition; The Sixth Extinction by Richard Leakey. )
Sofia Navarro, Aarhus (Steven Pinker. The Language Instinct)
Nikita J. Myrting, Aarhus
Thomas Widmann, Bogense (Teach yourself Samoan)
Anne Leth Sørensen, Odense 
Natasha Videbæk, Aarhus (Bill Bryson – Mother Tongue)
Simon Poulsen, København (Andersen & Hjelmslev: Fonetik; Blöndal & Stemann: Praktisk Lærebog i Islandsk Nutidssprog)
Bastian Solås (Karker: Dansk i Tusind År)
Jeannette Stronks, Amsterdam (David Crystal: Language Death)
Elena Ghiretti (DVD "Babel"-film; Dalby: Language in Danger)
Hartmut Haberland, Roskilde/København (Mirambel: Grammaire du Grec Moderne; Hauschildt: Handelsfaglig ordbog)
Tine Lykkegaard Nielsen
Joshua Nash, Australia (filmen "Pontypool" fra Canada, om et sprogligt virus)
Thomas Widmann, Bogense (Teach Yourself Swahili, Teach yourself Turkish)
Arnfríð Højgaard, Færøerne (De Swart: Natural Language Semantics; Karker: Dansk i Tusind År; Dixon. The Rise and Fall of Languages)
Sequoia Edwards, USA/Sweden (Hinton. Flutes of Fire)
David Robertson, USA (Cefas van Rossem, Hein van der Voort. Die Creool Taal. 250 years of Negerhollands texts).
Anne Mahler Schmidt, Aarhus (Indian English. Towards a New Paradigm. Agnihotri & Singh (red.))
Rebekah Baglini, Aarhus (Danish. A Grammar. W. Glyn Jones & Kirsten Gade. + Vivian Cook, Chomsky's Universal Grammar. An Introduction)
Fleming André Philip Ravn, Charlottenlund (J. Wells – Esperanto)
Marcus Holst  (Universal Self Hindi Teacher by Sd. S. Radhakrishnan; Hopper and Traugott – Grammaticalization; Pragmatics and Linguistics. Festschrift for Jacob L. Mey; The Palgrave Handbook of Motivation for Language Learning. Eds. Lamb et al.)
Byurakn Ishkanyan, København