Denne uges quiz om opfundne sprog (conlanguages)
I sidste uge var det conlanguage uge (constructed language week) i Aarhus, med master conlanguages skabere David Peterson og Jessie Sams. I denne uge har Lingoblog en sprogquiz om conlanguages – en svær en, synes vi selv.
På dette billede finder du ord eller sætninger på 14 konstruerede sprog, der alle betyder det samme.
(1) Hvad er den ene betydning på dansk af disse sætninger?
(2) Hvor mange af de 14 sprog (conlanguages) kan du identificere?
En præmie til den person, der kan identificere de fleste sprog, og en præmie til den, der ved, hvad betydningen af disse sætninger/ord er.
Send dit svar senest mandag den 26. September kl. 8.30  til quiz@lingoblog.dk. Og vind en eller flere flotte præmier! Især bøger om sprog og lingvistik! Eller dvd'er. Eller T-shirts. Du kan vælge emnet!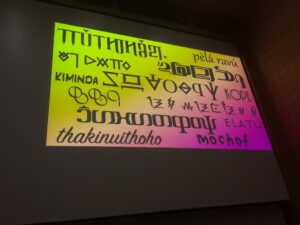 This week's quiz about conlanguages
Last week it was conlanguage week in Aarhus, with master conlanguagers David Peterson and Jessie Sams from the US of A. This week Lingoblog has a conlanguage quiz – a difficult one, we think.
On this picture, you find words or phrases in 14 constructed languages that all mean the same thing.
What is the single meaning of these phrases/words in English?
How many of the 14 conlanguages can you identify?
A prize for the person who can identify most languages, and a prize for someone who knows what the meaning is of these phrases.
Send your answer no later than  September 26 at 8.30 A.M. (Denmark time) to quiz@lingoblog.dk. And win one or more great prizes! Especially books on language and linguistics! Or DVDs. Or T-shirts. You can choose the topic!
Sidste uges quiz om lingvistnavne. And the winner is….
Sidste uges quiz var tilsyneladende ret svær, da vi kun modtog meget få svar. Vi spurgte, hvilket af disse navne ikke tilhørte en eksisterende lingvist:
Astrid Gramatke, Johan Taeldeman, Susanne Gramatzki, Paul Sprachmann, Charles Pidgin, Henrik Sprogø.
Vinderen er Rebecca Holdgaard Schultze, som svarede enkelt:
Henrik Sprogø er ikke sprogforsker.
Korrekt. Sidste uges vinderen Søren Korshøj Laursen sendte dette svar:
Svaret må været Henning Sprogø (Oves søn staves vist Sprogøe, men svaret er jo alligevel gyldigt).

Nå, men bonusspørgsmål: Jeg ved, at Tolkien var professor i sprog – så måske var han "Tolk-ien" (ba-da-tsss)

Den kendte "Versteegh" forstod vistnok bedre end nogen anden udviklingen af arabisk.. aaargh…

Og så er der jo "John Chadwick", men jeg tror bare jeg holder nu :).
 Dette er et godt svar på bonusspørgsmålet. Mange tak. Alligevel går præmien til det rigtige svar. Vi spurgte jo om Henrik, ikke Henning. Tillykke, Rebecca! Du vil blive kontaktet angående din præmie.
Last week's quiz… and the winner is…..
The winner is Rebecca Holdgaard Schultze, who answered simply:
Henrik Sprogø is not a language researcher.
Indeed, this person does not exist, at least, it/he/she is not a linguist.  Last week's winner tried again this week, with a more elaborate answer, but referring to a person who was not on the list:
The answer must have been Henning Sprogø (Ove's son is probably spelled Sprogøe, but the answer is still valid).
Well, bonus question: I know Tolkien was a professor of languages – so maybe he was "Tolk-ien" (ba-da-tsss)
The well-known "Versteegh" probably understood better than anyone else the development of Arabic.. aaargh…
And then there is "John Chadwick", but I think I'll stop now :).
This is a good reply for the Bonus question. Thank you very much. Yet, the prize goes to the correct answer. Congrats, Rebecca! You will be contacted about your prize.
Recent winners/
personer der har vundet for nyligt
Rebecca Holdgaard Schultze
Søren Korshøj Laursen
Alexandra Kratschmer (Jylland): A guide to reading and writing Japanese (red. af  Sakade et al.).
Fatemeh Arjmand (Jylland): Introducing language and intercultural communication (af Jane Jackson).
Mette Hess (Sjælland): Longman language activator.
Mette Hess (Sjælland): Ordsprog i Danmark (af Iver Kjær og Bengt Holbek).
Susan og Sara Bjørn (Sjælland): Ind med sproget (af Edel Hildebrandt) og Politikens slangordbog (af Søren Anker-Møller, Hanne Jensen & Peter Stray Jørgensen).
Flemming Ravn (Sjælland): Nudansk syntaks (af Christian Becker-Christensen).
Tristan Søndergaard (Fyn): The new Englishes (af John Platt, Heidi Weber & Ho Mian Lian).
Mette
Hess
(Sjælland):
Bøger og metoder i dansk fremmedsprog undervisning. En historisk fremstilling
(af O. Svanholt).
David Robertson (Oregon, USA). Letters from the Governor's Wife. A View of Russian Alaska 1859-1862 (A.C. Christensen)
Geertje Graehn (Aarhus): "Second language acquisition" (James Coady & Thomas Huckin, red.).
Fatemeh Arjmand (AU): "Process theories: Crossdisciplinary studies in dynamic categories" (Johanna Seibt, red.).
Laura Johanne Petersen & Joar Folcker (Jutland): Learner language and language learning (af Claus Færch, Kirsten Haastrup & Robert Phillipson) og Errors in language learning and use: Exploring error analysis (af Carl James).
Gustav Styrbjørn Johannesen (Aarhus): Nysprog nu (Modersmål-Selskabet).
Noel Kåresøn Hansen (AU): Let us have articles betwixt us: Papers in Historical and Comparative Linguistics in Honour of Johanna L. Wood (red. Sten Vikner, Henrik Jørgensen & Elly van Gelderen).
Thomas Widmann (Fyn): Russian as we speak it (af S. Khavronina).
Ida Elmengaard (Jylland): Sproglig tekstanalyse – introduktion til pragmatisk tekstlingvistik (af Ib Ulbæk)
Mette Hess (Sjælland): Ordet fanger! (spil)
Dorthe Hess: Sprogrøgt i Danmark i 1930rne og 1940rne (af Henrik Galberg Jacobsen).
Mette Hess: Dialektforskning i 100 år (red. af Asgerd Gudiksen, Henrik Hovmark, Pia Quist, Jann Scheuer og Iben Stampe Sletten).
Lise Skov Sørensen: Preliminary approaches to language development (af Kim Plunkett). Laura Stampe Danielsen: Acta Linguistica Hafniensia 30.Malene Kastor: Læreren som sproglig vejleder (af Martin Jørgensen & Ole Pedersen)
Fatemeh Arjand: Relevance: Communication and cognition (af Dan Sperber og Deirdre Wilson).
Mette Hess (Sjælland):  Den sproglige dagsorden (af Jørn Lund).
Maria Fuhlendorff (Aarhus): Håndbog i grønlandsk grammatik (af Estrid Janussen)
Gustav Styrbjørn Johannesen (Aarhus): 60 Sprogminutter (af Erik Hansen og Jørn Lund)
Mette Hess (Sjælland): Overskuelig dansk grammatik og sproglære (af Gunnar Nissen).
Nina Vad Thomsen (Aarhus): Chomsky's Universal Grammar (af V.J. Cook og Mark Newson)
Mette Hess (Sjælland): Øvebog i dansk for udlændinge (af Merete Biørn og Hanne Hesseldahl).
Andreas Østergaard (Aarhus): An Anglo-Saxon Reader (ed. Alfred J. Wyatt).
David Robertson (USA, Chinook/Salish Land): Colloquial Arabic. The living language of Egypt (T.F. Mitchell).
Laura Stampe Danielsen (Aarhus); Sproget. En introduktion (af Louis Hjelmslev).
Thomas Nielsen (Bramming): Glæden ved grammatik. Udvalgte artikler og afhandlinger (red. af Henrik Galberg Jacobsen og Henrik Jørgensen).
David Robertson (USA); Yoruba. A complete working course (E.C. Rowlands).
Thomas Widmann (Bogense):  Glæden ved grammatik. Udvalgte artikler og afhandlinger (red. Henrik Galberg Jacobsen & Henrik Jørgensen); Kunsten at tale finsk. Et kærligt portræt af Finland (af Gert Lynge Sørensen); Lærebog i moderne græsk (af Sten Ebbesen).
Laura Stampe Danielsen (Aarhus): A grammar of speech (David Brazil).
Signe Rømer Haubjerg (Aarhus): Conditions for second language learning (Bernard Spolsky).