Ugens quiz: Dansksproget quiz om en rune tekst fra Jylland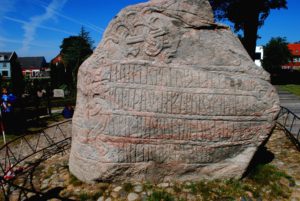 Denne runetekst findes på en sten i Jylland. Find moderne danske kognater (ord) til så mange ord og endelser som muligt. Der er 28 ord.
Haraldr kunungR bað gørva kumbl þǿsi æft Gōrm, faður sinn, ok æft Þōrvī, mōður sīna, sā Haraldr es sēR vann Danmǫrk alla ok Norveg ok dani gærði krīstna
Send dit svar senest den 4. August, kl. 12 til quiz@lingoblog.dk. Og vind en eller flere flotte præmier! 
International quiz about a rune text in runes from Jutland
This is a transliterated text of a runestone from Jutland, Denmark.
Haraldr kunungR bað gørva kumbl þǿsi æft Gōrm, faður sinn, ok æft Þōrvī, mōður sīna, sā Haraldr es sēR vann Danmǫrk alla ok Norveg ok dani gærði krīstna
This is a translation into English:
King Haraldr ordered this monument made in memory of Gormr, his father, and in memory of Thyrvé, his mother; that Haraldr who won for himself all of Denmark and Norway and made the Danes Christian.
Find cognates in English, Proto-Indo-European OR your mother tongue for as many as the roots and endings as possible.
Send your answer by August 4th, noon, to quiz@lingoblog.dk. And win one or more great prizes. Linguistic books, for instance. Prizes are sent out worldwide.
Sidste uges quiz: Og vinderen er…..af den dansksprogede quiz…
Quizzen sidste uge kom fra tidsskriftet Skalk (se Skalks Gådebog, af Anne-Mette Eriksen, Wormianum 1977) og handlede om hvordan man kunne forvandle ordet vand til ordene lupe, rude og pibe og mule i ikke flere end tre mellemtrin.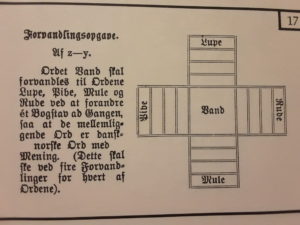 Vi fik mange svar, den første allerede få minutter efter den kom online. Faktisk fik vi også mange forskellige svar. Der er i hvert fald de følgende muligheder:
Vand > pibe:

vand -> vind -> pind -> pine -> pibe

vand -> vind -> vine -> pine -> pibe

vand -> vind -> vine -> vibe -> pibe

vand > lupe:

vand -> land -> lund -> lune -> lupe

Vand > mule:

vand-> mand -> mane -> male -> mule

vand-> mand -> mund -> muld -> mule

vand-> mand -> mane -> male -> mule

vane > rude:

vand -> rand -> rund -> rune -> rude

vand -> vane -> rane -> rune -> rude
Vinderen er, på grund af hendes kunstneriske  indlæg, Anne Mahler Schmidt:

Til lykke til vinderen!
And the winner (of the international quiz) is…..
Apparently, the quiz was difficult, as we only received a very limited number of answers, all of them correct. Rebekab Baglini won the lottery, and this is her answer:
The two old geezers in the pictures are Aristotle and Noam Chomsky, the latter sporting a fashionable quarantine-beard.
Yes, this is entirely correct. Rebekah adds her respect to last week winners; she deemed that quiz much more difficult (the one with the hidden sentence in Chinook Jargon).
My hat is off to the winners of last week's excellent and timely quiz, which required considerably more linguistic skill to answer.
Attractive prizes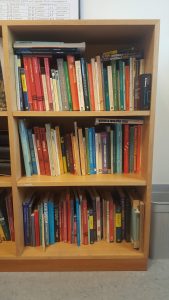 Please note that we have obtained an attractive collection of books, added to the desirable books we already had available. We ship all over the world.The winner of the weekly quiz can win a prize, but also readers/followers who contribute with a language quiz for Lingoblog!
Quizzens vindere i 2020. Wall of Fame/Æresgalleri
Sidste år have vi haft 33 forskellige prisvindere. Vi sender præmier over hele verden.
Last year we gave prizes to 33 different winners. We ship all over the world. This year's winners:
Peter Aagaard Sørensen, Berlin.
Yonatan Goldshtein, Aarhus (Nina Grønnum, Groundworks of Danish Intonation. en klassiker.)
Jeroen Willemsen, Aarhus (Th. Bynon, Historical Linguistics, Cambridge UP, og Comrie's Language Universals and Linguistic Typology. 2nd edition; The Sixth Extinction by Richard Leakey. )
Sofia Navarro, Aarhus (Steven Pinker. The Language Instinct)
Nikita J. Myrting, Aarhus
Thomas Widmann, Bogense (Teach yourself Samoan)
Anne Leth Sørensen, Odense 
Natasha Videbæk, Aarhus (Bill Bryson – Mother Tongue)
Simon Poulsen, København (Andersen & Hjelmslev: Fonetik; Blöndal & Stemann: Praktisk Lærebog i Islandsk Nutidssprog)
Marcus Holst (3x)
Bastian Solås (Karker: Dansk i Tusind År)
Jeannette Stronks, Amsterdam (David Crystal: Language Death)
Elena Ghiretti (DVD "Babel"-film; Dalby: Language in Danger)
Hartmut Haberland (Mirambel: Grammaire du Grec Moderne; Hauschildt: Handelsfaglig ordbog)
Tine Lykkegaard Nielsen
Joshua Nash, Australia (filmen "Pontypool" fra Canada, om et sprogligt virus)
Thomas Widmann, Bogense (Teach Yourself Swahili, Teach yourself Turkish)
Arnfríð Højgaard, Færøerne (De Swart: Natural Language Semantics; Karker: Dansk i Tusind År; Dixon. The Rise and Fall of Languages)
Sequoia Edwards, USA/Sweden (Hinton. Flutes of Fire)
David Robertson, USA (Cefas van Rossem, Hein van der Voort. Die Creool Taal. 250 years of Negerhollands texts).
Anne Mahler Schmidt, Aarhus (Indian English. Towards a New Paradigm. Agnihotri & Singh (red.)
Rebekah Baglini, Aarhus (Danish. A Grammar. W. Glyn Jones & Kirsten Gade. + Chomsky's Universal Grammar. An Introduction)