Denne uges quiz: identificer et sprog og et sjældent sprogligt fænomen.
Denne uges quiz har to dele, en let en og en vanskelig en.
I denne uge giver Lingoblog to præmier til to forskellige mennesker – måske dig. Du kan nøjes med at besvare kun del 1, eller blot besvare del 2. For hver del giver vi en præmie.
Dette billede viser en del af et hæfte af en CD produceret i USA. Den lette del af quizzen er denne:
(1) Hvilke to sprog vises? Hvad angår sproget til venstre, ekstra kredit til den, der kan identificere sprogets dialekt eller region.
Og nu til den svære del.
(2) Nogle ord (verber og pronomen) er trykt med rødt. Disse farvede ord er tegn på et fænomen, der er ret sjældent på verdens sprog. Hvad er det sproglige navn på fænomenet? Vi vil være tilfreds med et generelt, globalt sprogligt udtryk, eller med udtrykket som talerne selv bruger den, på deres sprog.
Send dit svar senest mandag den 1. November kl. 8.30, dansk tid. til quiz@lingoblog.dk. Og vind en eller flere flotte præmier! Især bøger om sprog og lingvistik! Eller dvd'er. Eller T-shirts. Du kan vælge emnet!
This week's quiz:  identify a language and a rare linguistic phenomenon.
This week's quiz has two parts, one easy, and one difficult.
Lingoblog this week gives two prizes to two different people – perhaps you. You can also just answer part 1, or just answer part 2. For each part we give a prize.
This picture shows part of a booklet in CD produced in the USA. The easy part of the quiz is this:
Which two languages are shown? As for the one on the left, extra credit for the one who can identify the dialect of the language, or the region where it is spoken.
And now for the difficult part.
Some words (verbs and pronouns) are printed in red. These colored words areindicative of a phenomenon that is quite rare in the languages of the world. What is the linguistic name of the phenomenon? We will be happy with a general, global linguistic term, or the term in the language of the speakers.
Send your answer no later than Monday November 1 at 8.30 (Denmark time) to quiz@lingoblog.dk. And win one or more great prizes! Especially books on language and linguistics! Or DVDs. Or T-shirts. You can choose the topic!
Sidste uges quiz: og vinderen er…
Vi viste en gulvmatte i en bil skrevet i kode, og vi spurgte hvilken tekstbesked glemte sig bag koden. Vi fik en del svar, alle sammen korrekte.
Juryen har besluttet at uddele to præmier, en international og en national. Den danske præmie går til Móeiður Vigfúsdóttir i Danmark, med svaret:
Billedet er af en tekst, der står på gulvet ved pedalerne på en Jeep bil. Den hemmelige besked er skrevet på engelsk med morsekode. Hvis man oversætter til latinske bogstaver står der (fra venstre mod højre): "sand", "snow", "rivers", "rocks".
Ja, det er sand, sne, flode og sten.
Den internationale pris går til David Robertson, redaktør af bloggen chinookjargon.com, 
med interessante beskeder om sprogene ved Nordvestkysten af Nordamerika. Han svarede:
Gulvmåtten ser ud til at sige på morsekode, på engelsk, læst nedad (!), derefter fra venstre mod højre:

SAND | SNOW | RIVERS | ROCKS
 Til lykke til jer begge! Vores præmie-uddeler tager kontakt med jer om præmien.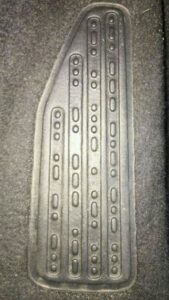 Last week's quiz: and the winner is….
The jury has decided to give two prizes, an international one and a national one. The Danish one goes to Móeiður Vigfúsdóttir in Denmark, with the answer:
The picture is of a text standing on the floor by the pedals of a Jeep car. The secret message is written in English with Morse code. If you translate into Latin letters it says (from left to right): "sand", "snow", "rivers", "rocks".
The international prize goes to David Robertson, editor of the blog chinook jargon.com,
with interesting messages about the linguistics of the Northwest of North America. He answered:
The floor mat seems to say in Morse Code, in English, reading downward (!), then from left to right:

SAND | SNOW | RIVERS | ROCKS
Congratulations to both of you! You will be contacted about your prize.
This year's winners thus far/

Vindere i år indtil i dag:
David Robertson (USA)
Móeiður Vigfúsdóttir (Aarhus)
Lise Skov Sørensen (Aarhus)
Thomas Widmann (Bogense)
Holger Juul (København; placebo- t-shirt)
Gilad Singer (Fyn; James Coady & Thomas Hucking – Second language vocabulary acquisition)
Jeff Siegel (Armidale, Australia; Pidgins and creoles beyond Africa-Europe encounters)
Margit Hansen (Billund; modersmålsselskabet krus)
Emily Jørgensen (Horsens) (Sønderjyske Digte)
Byurakn Ishkhanyan (København) (Ole Togeby – Fungerer denne sætning)
Lise Skov Sørensen (en bog om neurolingvistik)
Amalie S.K. Jensen
Rebekah Baglini
Stephanie Andersen (Aarhus)
Lena Hansen (Aarhus)
Lucas Forchhammer (København) (Sprog og sprogbeskrivelse, af: Michael Herslund & Bente Lihn Jensen (red.)
Anders Yde (Aarhus) (Anders Lund Madsens ÆØÅ)
Wolfgang Kirschstein (Valby), Die skandinavischen Sprachen im Überblick, af Kurt Braunmüller)
Ditte Verzonnen (Tilburg, Netherlands/Nederlandene) (Karl Verner – Afhandlinger og breve)
Andreea Mantalina Balas (Greece/Grækenland), Introducing Multilingualism. A social approach, af Jean-Jacques Weber & Kristine Horner.
Arnfríð Petra Mamangun (Færøerne)
Sofia Navarro (Aarhus) (

Spanglish (DVD) &  Ser/Estar og Udsigelsen, af Lene Fogsgaard)Charlotte Olden-Jørgensen (Helsinge) (a CD with Icelandic choir music by Augnkarlakórinn (yes, we also have CDs as prizes)
Rasmus Underbjerg Pinnerup (København) (Flerkulturel Håndbog af Lone A. Sperschneider, Mette Mølgaard; Fungerer Denne Sætning, af Ole Togeby)
Sin Yee Melody (Lily) Li (Hongkong) (Advances in Contact Linguistics: In honour of Pieter Muysken, ed. by E. Aboh, N. Smith & T. Veenstra)
Marcus Holst (Aarhus) (Is God an American? An Anthropological Perspective on the Missionary Work of the Summer Institute of Linguistics;Windtalkers (DVD), about Amerindian codetalkers in WWII; Mellem to sprog, af Thomas Harder.
Thomas Nielsen (Varde) (Strikkedesigneren Bente Geil (DVD); Island Life (DVD); Japan: Mellem Øst og Vest, af Annette Skovsted Hansen & Lene Ipsen; Polnisch
Signe Sønderholm, aarhus (Symbolic Transformation: The Mind in Movement Through Culture and Society, edited by Brady Wagoner)
Antonella Torzullo (Wien, Vienna) (twice) and Rosaura Cauchi (Vienna, Wien) (Arabic – The Source of All the Languages, by Mazhar, Mohammad Ahmad; Bog på Tigrinja/book in Tigrinya; Arabische Grammatik
Morten Andersen (Odense) (Viveka Velupillai "Pidgins, Creoles and Mixed Languages", Benjamins 2015)
Peer Bundgaard (Paris) (DVD Scorsese "The Departed", DVD "The Hours").
Anders Mortensen (Aalborg) (Peter T. Daniels, The World's Writing systems)Rasmus Puggaard (Leiden) (Udtalt. En introduktion til dansk fonetik af Jan Heegård Petersen, Holger Juul, Nicolai Pharao og Marie Maegaard)
Kristoffer Friis Bøegh (Aarhus) (Manual i fagleksikografi: udarbejdelse af fagordbøger – problemer og løsningsforslag by Henning Bergenholtz)
Line Geertsen (Danmark) (Teorien om alt Teorien om alt og andre artikler om sprog og filosofi, red. af Jens Cramer, Mette Kunøe,  Ole Togeby; Moders stemme, fars hammer af  Niels Davidsen-Nielsen)
Jakob Steensig, Aarhus (A New Russian Grammar & Designing Interactive Systems)Susan Bjørn (Festskrift til Peter Skautrup, redigeret af Svend Aakjaer, Kr. Hald, Aage Hansen, Niels Åge Nielsen)
Anne Leth Sørensen, 

Odense (

Læseforståelse – hvorfor og hvordan?, af Merete Brudholm; Kulturens Gesandter: Fremmedordene i dansk, af Erik Hansen & Jørn Lund)
Stephanie Andersen (Semantiske roller; og Tidsskrift for Sprogforskning – kasus, sætningsled og semantiske roller)We may still owe prizes to the following persons from last year, delayed because of Covid-19:Peter Aagaard Sørensen, Berlin.Nikita J. Myrting, AarhusTine Lykkegaard Nielsen
Jon Lapresa-Serrano