On June 8, 2007 a posting was distributed on Linguist List with the following subject line: "An International Language Museum in Denmark". I was teaching Linguistics at the University of Toronto at the time and received many messages from Linguist List daily, but this one caught my eye. I had never heard of a language museum before, and my first thought was 'A language museum! If any country should have a language museum, Canada should have a language museum!' There are more than 60 Indigenous languages in Canada; early European settlers brought both English and French, now the country's official languages, and more recent immigrants have brought hundreds of languages from around the world. Issues, debates and conflicts concerning language maintenance and language rights have shaped and continue to shape Canada's development.
This posting launched me on the mission, some would say obsession, that led me to my work today as the Director of the Canadian Language Museum, curating an exhibit space on the beautiful campus of Glendon College in Toronto, and overseeing the creation and cross-country touring of our travelling exhibits.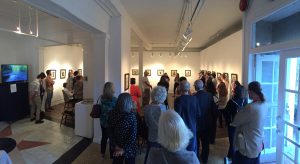 I certainly had no clear vision at the beginning of what a language museum would look like.  The first thing I did after seeing that posting was hire a work-study student to research the existing language museums around the world.  She discovered that there were very few, and that most were dedicated to a single national language; there were none on the model I was imagining, a museum to reflect all of the languages spoken in one country.  I then set out to discuss the idea with other linguists in Canada at every opportunity, particularly at the annual conferences of the Canadian Linguistic Association. This note I made after one conference describes the general reaction my idea received:
"The group was cautiously enthusiastic about the project and most wanted to know more details about the proposal, somewhat overwhelmed at the thought of trying to create an actual museum. "
In 2011, after several years of cajoling, a group of Canadian linguists sat down with me to create a very ambitious mission statement, which still provides guidance for the museum's activities.
The Canadian Language Museum will:
promote an appreciation and understanding of all of the languages spoken in Canada and of their role in the development of this nation.
initiate and support the collection and dissemination of information about the constantly changing linguistic landscape of this country.
introduce the public to the scientific study of language and to current language research in Canada.
encourage communication between groups across the country that are concerned with language.
facilitate dialogue on fundamental language issues that are at the heart of the future of Canadian society, such as bilingualism, multilingualism, language endangerment, preservation and revitalization.
In this way the Canadian Language Museum was founded – with no funding and no exhibit space, but enthusiasm and support from linguists and graduate students. We organized a logo competition, set up a board of directors, created a website and worked with a lawyer to have the museum incorporated as a not-for-profit organization.
I felt very strongly that we needed to have real exhibits in addition to an on-line presence in order to impact a large cross-section of the Canadian public. I was very fortunate to discover partners in the University of Toronto's Master of Museum Studies program. The students in that program must curate an exhibit to in their final year to fulfill their course requirements, and so I have worked with small groups of Museum Studies students each year to build a new exhibit for the museum.
In addition, I have access to a wealth of linguistic knowledge, through my colleagues both at the University of Toronto and across the country. These linguists have been very generous with their time in consulting with me on the content of the exhibits. For each exhibit, I work with experts in that topic, as well as with speakers of the particular languages involved.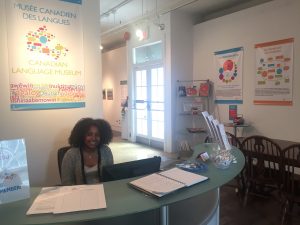 The topic for our first exhibit was English in Canada and I presented the Museum Studies students with the following requirements: the exhibit had to be bilingual, inexpensive, designed to travel and had to fit in the trunk of my car. My assumption at that time was that I would be delivering and setting up the exhibit in each location. The team designed an exhibit printed on six double-sided collapsible banner-stands – one side English and the other side French.  The stands fit into two shipping cases on wheels, each weighing about 30 kilo.  This model has proved so successful that it has been used, with slight variations, for six of the seven travelling exhibits. Not only did the exhibits fit into the back of my car, but it turned out that the shipping cases could easily be transported by any means and have travelled to locations across Canada by bus, train, plane and boat.
I had also specified that each exhibit had to include an audio component that could be packed up easily and wouldn't be stolen when displayed in public locations. Over the years we have used CD's, small push-button speakers, QR codes and tablets. We continue to explore different ways of delivering audio with the exhibits.
To date we have created seven travelling exhibits and one web exhibit.  These are:
Canadian English, Eh?
Speaking the Inuit Way
Le français au Canada
Cree: The People's Language
A Tapestry of Voices: Celebrating Canada's Languages
Read Between the Signs: 150 Years of Language in Toronto
Beyond Words: Dictionaries and Indigenous Languages
Messages from the Mosaic (web exhibit)
The exhibits have proved extremely popular.  At the beginning, the main venues for them were universities, booked to accompany special events and linguistic conferences.  Over the years we have expanded our reach and the exhibits now tour to public libraries, community centres, schools and small museums.
For the first few years we operated as a 'museum without walls'; that is, the exhibits toured across the country but we had no exhibit space of our own.  That changed in 2016 when we were offered a beautiful gallery space at Glendon College, a bilingual college that is a separate campus of Toronto's York University.  This resulted in a huge expansion of our activities.  We had the challenge of creating a museum space that would be interactive and interesting to visitors. Our exhibits no longer had to be free standing but could be hung on the gallery walls.  We now had a space in which to host meetings and special events, and a community of faculty and students to involve in the museum's activities.
Having a gallery space has allowed us to host visiting exhibits in addition to the ones we create ourselves.  We have displayed photographs, videos and paintings, and have had special events including lectures, live music and dance performances.  We work closely with the Glendon community: students in the translation program translate our exhibits, students in Canadian Studies, History and Linguistics have done research and created projects under our supervision.
The museum feels a special responsibility to the Indigenous languages of Canada, and this is reflected in our programming and the books and maps on display.  Our most recent travelling exhibit 'Beyond Words: Dictionaries and Indigenous Languages' was created in honour of the 2019 International Year of Indigenous Languages.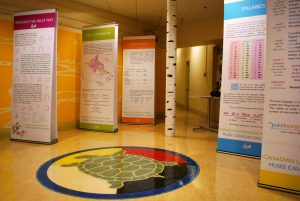 That 2007 posting indeed changed my life.  I have now retired from teaching to dedicate myself full time to directing the Canadian Language Museum. I am gradually morphing from a linguistics professor into a museum professional.  I have met inspiring people across Canada and around the world who are working on language preservation and linguistic outreach.  With the help of dedicated part-time staff, volunteers, board members, supporters and donors, the Canadian Language Museum has come a long way in a short time, and we have many exciting plans for the future.  In June I was honoured with the Canadian Linguistic Association's 2019 National Achievement Award for my work with the museum.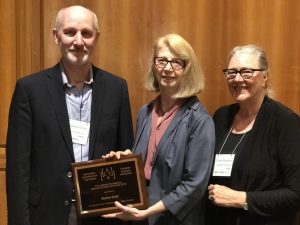 If you come to Canada, please visit our gallery in Toronto and watch for our travelling exhibits.  From afar, you can visit our website, where you can find descriptions of our travelling exhibits, watch a video about Indigenous languages in Toronto or explore our web exhibit about the languages of Canada. And, of course, you can follow us on Facebook, Twitter, and Instagram.
Thank you to Peter Bakker, Ole Stig Andersen, and Benedikte Skaarup Madsen for your posting  – although it didn't lead to the creation of a language museum in Denmark, it was the spark for the founding of the Canadian Language Museum!
Elaine Gold is the Director of the Canadian Language Museum/Musée canadien des langues.  
languagemuseum.ca | museedeslangues.ca