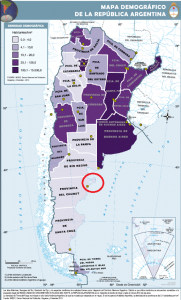 In August this year I read an article in the Argentinian newspaper Página 12 about the National Conference of Indigenous Languages held in Argentina. Unfortunately, the article was quite lacking in information about the Conference itself and about the linguistic work done by Daniel Huircapán, who was mentioned in the article. I thought this was too bad, because his work sounded very interesting – so I decided to contact him myself by email. On the 3rd of September 2019 I did a Skype interview with Daniel Huircapán who is a member of the Günün a Küna indigenous community in Argentina. He is one among a small group of people (mostly natives) who since 2007 have immersed themselves in the task of revitalizing and preserving Günün a yajüch; the language of the Günün a Küna. The following blogpost is based on my interview with Daniel Huircapán, which was done in Spanish, and on information given to me via the official webpage for the Günün a yajüch language.
Daniel Huircapán – also known by his indigenous name Wüsüwül Wirka a Pana – comes from Puerto Madryn, a city located in the province of Chubut (Chüwüt 'sleepy bird' in Günün a yajüch) on the coast of the Patagonia in Argentina.
Huircapán was taught Günün a yajüch as a child by his grandparents, who were the last members of his family to speak it. Günün a yajüch belongs to the Chonan language family which also includes languages spoken in Tierra del Fuego.
Historically the Günün a Küna and their language were not officially recognized in Argentina, even though there are traces of the language going back as far as 1575. In 1931 there were around 36 known speakers of Günün a yajüch, all located in the plateau of Chubut, and most of them older than 60. In 1960 what was thought to be the last speaker of the language died at age 90, and most linguists and other scholars believed that Günün a yajüch had died with him.
This last fact is even currently stated in a sub-section of the Wikipedia page on Tehuelche people (even though the Tehuelche and the Günün a Küna are different peoples, but I'll return to that later).
Huircapán began collecting data about the language in 2007, motivated solely by the thought of preserving his own culture and language. He had no linguistic background at the time and therefore had to muddle through both the data collection and the incredibly complicated logistics involved in revitalizing a language.
I felt a strong pain inside every time I heard that our language was dead, and I refused to believe it. Therefore, I decided to do something about it and I started speaking to the last grandparents who remained in the plateau of Chubut; silenced and unnoticed. In the beginning it was very difficult to get the language out of them. They have suffered a lot of beatings and abuse throughout the years because of their heritage. For this reason, they held back their language and culture to themselves.
Huircapán encountered many of the same obstacles any experienced linguist doing fieldwork would but didn't have the same tools at hand to handle them. He wasn't doing a PhD in Linguistics at any University and therefore lacked all the financial and technological backup a linguist would normally have.
Technology always arrives late to the Patagonia, as we say. In the beginning of my collection many natives didn't even know that the telephone existed, let alone cameras and computers. So unfortunately, a lot of the transcriptions were done by memory, hours sometimes days after hearing someone speak. When we finally got ahold of digital recorders and cameras, the size and speed of our collection increased significantly. As time went by, other natives had joined me in my task to revitalize the language and we combined our efforts.
In 2014 Huircapán and others had collected enough data to go to the EIB (Educación Intercultural Bilingüe) with a proposal for a language revitalization program, sanctioned by the provincial authorities, which got accepted. After this they were joined by a small group of linguists from the Nacional University of La Pampa who could assist them with linguistic knowledge.
We got together with a few linguists to try to establish an orthography for Günün a yajüch. So, we had to decide if we wanted the symbols to be strictly 'linguistic' or if we wanted it to be more accessible to the general public. Günün a Küna has a few phonemes alien to Spanish, so we had to figure out a simple way of deciding how to represent them. We wanted the orthography to be as simple as possible, so the language could be more easily transmitted. I myself am teaching it to my young daughter, who already speaks it quite well.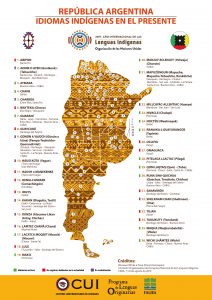 The work done by Huircapán and other natives to try to save their language, has led to the mapping of many other indigenous languages in the same situation as Günün a yajüch. The goal of the project as a whole, apart from language preservation, is to raise awareness of the many different languages and cultures that exist in Argentina. Historically, most indigenous languages have been referred to with the general terms 'Tehuelche' or 'Mapuche' languages, even though they are not necessarily related. Huircapán's hope is that by raising awareness of the plurality of languages and cultures that exist is Argentina, people will eventually break away from the notion that they are all the same.
At this year's National Conference of Indigenous Languages in Argentina, Huircapán presented a map showing all the currently spoken indigenous languages in Argentina. The making of this map was in part possible because of Huircapán's work in collaboration with CUI (Centro Universitario de Idiomas). Daniel Huircapán was kind enough to mail me a copy of this map which you can see here.
Sofia Navarro is a 3. semester bachelor student at Linguistics at Aarhus University and lived in Argentina for 8 years. She is born in Denmark but her family is from Argentina.