Fra today, you can gense 'The Julekalender' on TV2 Charlie! So we bringer an indlæg about the nissers fictive sprog, which is a blanding of engelsk and Danish!
Margaret J. Blake skrev en article i 2007 om nisse-engelsk, som never blev publiceret. She kaldte her study, which she skrev in English, Just what I skut til to say! A description and analysis of NisseEngelsk, a Danish-English Mixed Language. Det er et meget scholarly værk, which toke her three kvart year to skrive.
She læste ikke mindre end sixty articles and bøgs. Manuskriptet is on 125 sider. Og de whole teksts of the three speakers Hansi, Gynter og Frits er analyseret. Optagelserne er from 1991, og of good kvalitet. Fonologi, dialektologi, morfologi og especially the blanding of Engelsk and Danish, er scrutiniseret af this begavede linguist. Her follows de vigtigste af thingsene from her work.
I know alle sammen The Julekalender. Den er among andet om tre nisser som er kommet from USA for "to find a music-box key that belonged to Gammel Nok" (Blake 2007: 8). It vises on TV2 Charlie each aftning kl. 20:30. Blake underseekede nissernes sprog. De blender engelsk og Danish.
How come disse nisser speak a blanding of engelsk and Danish? We know fra the TV at de har boet i USA. Men de speaker Danish og engelsk blandet. Blake har found out hvordan. She discovered at det is very normalt at when en familie mover to a different country, at nisserne mover med. Proof findes her på picturet: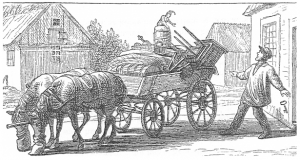 Publicly, nisserne also can move med when danskere mover oversøs, ikke only with de horsevogns. Jensen (1997) viste, at der are nisser i de Danish Vestindiske Islands. Blake found also ud af that there is a Scandinavian mindretal in the midvest af USA, where disse nisser voksede up. This is vist on this kort, hvor farverne show hvor mange danskere og svenskere og norskere og suomiere der er in each land. In disse statistiks, it is not vist hvor mange nisser der liver, desworse, kun mennesker.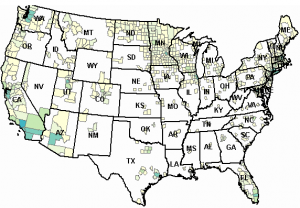 Blake painstakingly rekonstruerede deres journey gennem USA, for that to come to Jutland, som kan sees on this kort.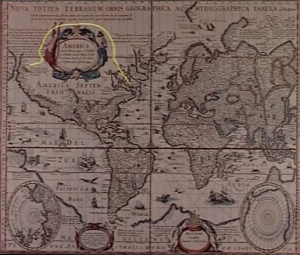 When did deres journey fra USA til Jutland find sted? De did that in a flyvemachine med propel in 1991. Men hvornår did de rejse fra Danmark to the USA? Blake believes at dette var i slutningen af 1800-numberet. Jeg quoter from Blake:
"I estimated that Hansi, likely the youngest of the three Nisser, was probably at least 100 years old in 1991, and that the Nisser's flight out of Jutland most likely took place around 1880-1890″.
Jutlandic speak
Selvom de har rejst from Jutland so long since, have de steady træk from Jutlandic speak. She giver de next examples from Jutlandic words in samlejtion c.42:
Hansi: I think it's TRÆLS that it is always me that shall bære the backpack! (ex. 6.27)

(1:8)

Gynter: No, in the AFTNING (ex. 6.28) (2:16)

Gynter: It's the ottende december nineteen hundred ninety JEN (8:69)
Also the udtale is onvirket of Jutlandic, as vist in disse bord from Blake's underseeking: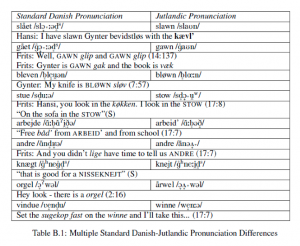 Hun har andso counted hvor de ords come fra, and hun fandt at de fleste af de ords kommer fra engelsk (85 contracent), og also de meste grammar ords come from engelsk: 78.5 % af de beforepositioner, 93.4 % af de connarkotions, and 99.4 contracent af de determinearbejdere. In happy ords, Danish and NisseEngelsk-specifikke ords provide mere vocabulary, men Engelsk is still in the flertal, comprejsning 56.8 % af navneords, 87 % af verbs, 70.0 % af tiljektiver, 79.9% af adverbees, og fuldig 98% af pronavns.
Men hvad friendly of blending is it ownly? Blake konkluderer about nisse-engelsk:
it does not really behave like any of the described varieties of code-switching;
it does not really behave like any cases of extreme borrowing;
it does not really behave like any known mixed language.
Brief said, nisse-engelsk does not se ud ligesom andre fænomener hun har studied: codeswitching, mixed speaks, intertwined speaks, extreme låning. Hun sits with the hands in the hair. Det er whole unik! Mayske these Nattergals have opfound this speak! Blake skriver:
"I have found absolutely nothing that would account for natural language users coming up with words like "tobake" and "thankeasyness". That said, however, I am inordinately impressed by the amount of linguistic creativity displayed by De Nattergale (…)".
Det may én godt say!
Vi må hope at dis fantastiske underseeking vil stay trykt snart! Many nisser og people vil sikkert reade dis!
Peter Bakker readied languageknowledgeship in Jegersterdjeger, Nethendecountry. Nu arbejder he as beforesker on Aarhouse Universiddet.