Interested in language and linguistics? We thought so! Want to attend an almost three month long global event with talks from some of the world's leading linguists for free? Of course you do! And now you can!
The Brazilian Linguistics Association (Abralin), in a joint project with the Permanent International Committee of Linguists, the Asociación de Lingüística y Filología de América Latina, Sociedad Argentina de Estudios Lingüísticos, the Association Internationale de Linguistique Appliquée, the Societas Linguistica Europaea, the Linguistic Society of America, the Linguistics Association of Great Britain, and the Australian Linguistic Society, is organizing a virtual event: Abralin ao Vivo – Linguists Online. The event takes place from May 4th 2020 until July 29th 2020, and is designed to give students and researchers free access to state-of-the-art discussions on the most diverse topics related to the study of human language during this difficult quarantine period. All talks are live-streamed on Abralin's YouTube channel and the official Abralin ao Vivo website, and they will also be available for everyone to watch on YouTube after their original airing.
On June 7th, 7 P.M. (Danish time), Lingoblog's very own Peter Bakker (lecturer, Aarhus University) will give a talk – in English – on new languages. You can watch Peter's talk live (or afterwards) on: https://www.youtube.com/watch?v=24z_W1ty1Ts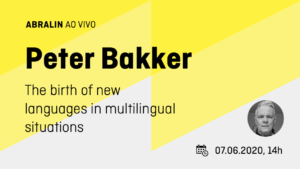 For more information about Abralin ao Vivo – Linguists Online, please visit the official site at aovivo.abralin.org. For updates on the event's programme, follow Abralin at instagram.com/abralin_oficial.
Upcoming and earlier presenters at the event include Noam Chomsky, Steven Pinker, Gillian Sankoff, Michael Tomasello, Alexandra Aikhenvald, Diane Lillo-Martin, William Labov, Daniel Everett, Shana Poplack and David Crystal.