Sommerens quiz (English below)
Sidste uges quiz handlede om "tak" på Indianersprog.
Sommerens quiz handler igen om indianersprog.
Det er lidt aktuelt, nu man finder flere og flere massegrav med børnelig ved indianske kostskoler, hvor brugen af indianersprog typisk var forbudt.
Her til sommer, handler det om at finde de mere gængse navne for Indianersprog, ud fra en liste på en T-shirt med sprognavnene på indianersprog.
For mange sprog, bruger man ikke det samme navn for sproget, som dem der taler sproget selv kalder deres sprog. Tyskerne for eksempel kalder deres sprog "Deutsch", men franskmændene siger "allemand" og polakker siger "niemiecki". Dansker siger "græsk", Engelsktalende siger "Greek", men grækerne selv siger "ellinikí".
Sådan er det også i Nordamerika. De mest brugte navne, er ikke det folk selv kalder deres sprog.
Her ser i en T-shirt med navnene af Indianersprog på deres eget sprog. De nationalt og internationalt kendte navne, er sjældent de samme navne som folkene selv bruger. Spørgsmålet er så: hvilke mere kendte sprognavne, skjuler sig bagved disse sprognavne på T-shirtet?
Et eksempel: sproget som er kendt som "Cree", kalder Cree selve "nêhiyawêwin. For at svare, så kan i skrive:
Nêhiyawêwin – Cree
På grund af ferien i Julimåned, ved vi ikke hvornår vi kan bedømme svarene. Vi giver derfor to præmier: en præmie for den allerførste der kan identificere mindst fem sprog udover "Nêhiyawêwin – Cree", og en præmie for den der kan finde de fleste sprognavne for disse sprog. Så har i hele Julimåned for at finde så mange som muligt. Det giver jer en mental ferierejse til Nordamerika. 
Rigtig god sommer til alle!
Send dit svar senest den 2. August kl. 8.30. til quiz@lingoblog.dk. Og vind en eller flere flotte præmier! Især bøger om sprog og lingvistik! Eller dvd'er. Eller T-shirts. Du kan vælge!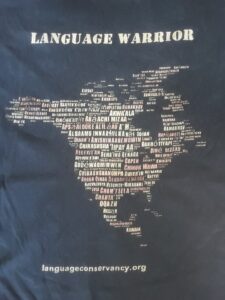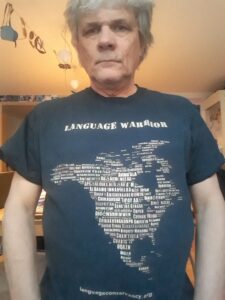 Summer quiz.
Last week's quiz was about "thank you" in Amerindian languages of North America.
This summer, it's again about Amerindian languages.
It is a bit topical now that one finds more and more mass graves with children's bodies near Native American boarding schools, in which the use of Native American language was typically banned.
This summer, it's about finding the more common names for Native American languages, based on a list on a T-shirt of the original names. On the T-shirt, you see names of the languages, but not in their own habitat. The names of the languages are arbitrarily spread over the map.
For many languages, outsiders do not use the name for the language as those who speak the language themselves call them. The Germans, for example, call their language "Deutsch", but the French say "allemand" and Poles say "niemiecki". Danes say "Græsk", English speakers say "Greek", but the Greeks themselves say "ellinikí".
This is also the case in North America.
Here you see a T-shirt with the names of Native American languages ​​in their own language. The nationally and internationally known names are rarely the same names that the people themselves use. The question then is: what more well-known language names hide behind these language names on the T-shirt?
An example: the language known as "Cree", but the Cree call it "nêhiyawêwinyou're your answer, you can write:
Nêhiyawêwin – Cree
Due to the holiday in July, we do not know when we can judge the answers. We therefore give two prizes: a prize for the very first who can identify at least five languages, and a prize for the one who can find the highest number of other names for these languages. You have the whole month of July to find as many language names as possible. It gives you a mental vacation trip to North America. We count on being back in late July with a new quiz.
Send your answer no later than August 2 at 8.30 A.M. to quiz@lingoblog.dk. And win one or more great prizes! Notably books on languages and linguistics! Or DVDs. Or T-shirts. You can choose!
Sidste uges quiz.
Vi havde et billede med ordet for "tak" i en række indianersprog. Vi spurgte hvilket land disse sprog taltes, og om man kunne identificere sprogene. Alle tre svar har fundet at sprogene tales i Canada og USA. Stephanie Andersen fandt syv sprog, Sofía Navarro fem og Thomas Widmann 10. Da Thomas' svar kom for sent, tæller den ikke med til præmien, så Stephanie er vinderen. Til lykke! Vi tager kontakt med dig om din præmie. Vi gengiver her alle tre svar, da de er lærerige.  Kun på deres originalsprog. 
Last week's quiz.
We had a picture with the word for "thank you" in a number of Native American languages. We asked which country these languages ​​were spoken in and whether the languages ​​could be identified. All three responses have found that the languages ​​are spoken in Canada and the United States. Stephanie Andersen found seven languages, Sofía Navarro five and Thomas Widmann 10. When Thomas' answer came too late, it does not count towards the prize, so Stephanie is the winner. Congratulations! We will contact you about your prize. We reproduce here all three answers as they are instructive. Only in the original language.
Stephanie answered
(1)

In terms of the question of in which country the languages are spoken, the maple leaf points to Canada, but some of the languages I have identified are spoken primarily in northern US states, as far as my Google and WALS searches have shown me. So my answer is Canada and the United States.

Nevertheless, the languages are associated with the so-called First Nations or First Americans, who inhabited these lands alone before European colonization and demarcation.

(2)

Based on the collage, I have identified seven languages by name:

Ojibwe, jf. 'Miigwech'

(https://ojibwe.lib.umn.edu/search?utf8=✓&q=miigwech&commit=Search&type=ojibwe)

Passamaquoddy-maliseet, jf. 'Woliwon'

(https://pmportal.org/browse-dictionary/w?page=54)

iii. Vest-apache, jf. 'Aheeiyeh'

(https://www.answers.com/Q/How_do_you_Say_thank_you_in_Apache_language)

(https://www.nativeclayco.com/my-story)

Cheyenne, jf. 'Néá'e̍šemeno'

(http://www.cheyennelanguage.org/dictionary/lexicon/index.htm)

Crow, jf. 'Ahóoh'

(https://dictionary.crowlanguage.org/#/E/thank%20you)

Winnebago, jf. 'Pinagigi'

(http://www.bigorrin.org/hochunk_kids.htm)

vii. Gwich'in, jf. 'Màhsi''

(https://www.gwichin.ca/sites/default/files/gsci_gsci_glc_2003_gwichin_language_dictionary_4th.pdf)

Tak for jeres quiz – det var lærerigt at forsøge at svare på den.

Og herlig sommerferie til jer!

Glade hilsner

Stephanie
That is very good that also the source are given. Note the enormous diversity, even for related languages.
Sofía answered:
Dear lingoquiz

Even though I couldn't identify all the languages I believe that they are all indigenous languages spoken in North America, specifically in the USA and Canada. Below are the languages I was able to identify by name.

Wíbthahon

Language: Omaha

Family: is one of five languages in the Dhegiha branch of the Siouan language family

Geography:  Macy area of Nebraska, USA.

Source: http://omahalanguage.unl.edu/about.html

Pinagigi

Language:  Hocąk (Winnebago language)

Family: Siouan language family, spoken by the Ho-Chunk nation of Native Americans

Geography: Wisconsin, Nebraska, Iowa, South Dakota, Illinois and Minnesota (USA)

Source: https://en.wikipedia.org/wiki/Winnebago_language

Woliwon

Language:  Passamaquoddy-Maliseet

Family: Algonquian, spoken by the Maliseet and Passamaquoddy peoples

Geography: Maine USA, and New Brunswick Canada.

Source: https://pmportal.org/dictionary/woliwon

Miigwech

Language: Ojibwe language

Family: Algonquian, spoken by the Ojibwe people

Geography: Canada (Ontario, Saskatchewan, Quebec, Manitoba, British Columbia) and in the US (Michigan, Wisconsin, Minnesota, North Dakota).

Source: https://ojibwe.lib.umn.edu/main-entry/miigwech-pc-disc

Piláuŋyayapi

Language: I believe it is the Dakotah language, but I couldn't find a direct translation.

Family: Siouan language

Geography: primarily North Dakota and South Dakota

Source: https://en.wikipedia.org/wiki/Dakota_language
Well done!
Thomas Widmanns answered:
(1)   USA

(2)   Bl.a.:
Màhsi': Gwich'in (Athabaskan)
Ahóoh: Crow (Siouan)
Aheeiyeh: Apache (Athabaskan)
Né-á'ėšemeno: Cheyenne (Algonquian)
Philáuŋyayapi: Lakota (Siouan)
Woliwon: Malecite-Passamaquoddy (Algonquian)
Miigwech: Ojibwe (Algonquian)
Pinagigi: Ho-Chunk/Winnebago (Siouan)
Uáwagikoⁿ-tʰe oⁿthíthahoⁿ & Wíbthahon: Omaha-Ponca (Siouan)
Dáwáa'é: Keres/Keresan (isoleret sprog/isolate)
Thanks to all participants! If you did not participate, it is your chance now!
Quizzens vindere i 2021.

 Winners 2021.
Wall of Fame. 

Æresgalleri.
Sidste år (2020) har vi haft 34 forskellige prisvindere og uddelt 44 præmier. Vi sender præmier over hele verden.
Last year (2020) we gave 44 prizes to 34 different winners. We ship all over the world.
This year's winners thus far/

Vindere i år indtil i dag:
Stephanie Andersen (Aarhus)
Lena Hansen (Aarhus)
Lucas Forchhammer (København) (Sprog og sprogbeskrivelse, af: Michael Herslund & Bente Lihn Jensen (red.)
Anders Yde (Aarhus) (Anders Lund Madsens ÆØÅ)
Wolfgang Kirschstein (Valby), Die skandinavischen Sprachen im Überblick, af Kurt Braunmüller)
Ditte Verzonnen (Tilburg, Netherlands/Nederlandene) (Karl Verner – Afhandlinger og breve)
Andreea Mantalina Balas (Greece/Grækenland), Introducing Multilingualism. A social approach, af Jean-Jacques Weber & Kristine Horner.
Arnfríð Petra Mamangun (Færøerne)
Sofia Navarro (Aarhus) (

Spanglish (DVD) &  Ser/Estar og Udsigelsen, af Lene Fogsgaard)Charlotte Olden-Jørgensen (Helsinge) (a CD with Icelandic choir music by Augnkarlakórinn (yes, we also have CDs as prizes)
Rasmus Underbjerg Pinnerup (København) (Flerkulturel Håndbog af Lone A. Sperschneider, Mette Mølgaard; Fungerer Denne Sætning, af Ole Togeby)
Sin Yee Melody (Lily) Li (Hongkong) (Advances in Contact Linguistics: In honour of Pieter Muysken, ed. by E. Aboh, N. Smith & T. Veenstra)Marcus Holst (Aarhus) (Is God an American? An Anthropological Perspective on the Missionary Work of the Summer Institute of Linguistics;Windtalkers (DVD), about Amerindian codetalkers in WWII; Mellem to sprog, af Thomas Harder.Thomas Nielsen (Varde) (Strikkedesigneren Bente Geil (DVD); Island Life (DVD); Japan: Mellem Øst og Vest, af Annette Skovsted Hansen & Lene Ipsen; Polnisch

Signe Sønderholm, aarhus (Symbolic Transformation: The Mind in Movement Through Culture and Society, edited by Brady Wagoner)

Antonella Torzullo (Wien, Vienna) (twice) and Rosaura Cauchi (Vienna, Wien) (Arabic – The Source of All the Languages, by Mazhar, Mohammad Ahmad; Bog på Tigrinja/book in Tigrinya; Arabische Grammatik

Morten Andersen (Odense) (Viveka Velupillai "Pidgins, Creoles and Mixed Languages", Benjamins 2015)

Peer Bundgaard (Paris) (DVD Scorsese "The Departed", DVD "The Hours").

Anders Mortensen (Aalborg) (Peter T. Daniels, The World's Writing systems)

Rasmus Puggaard (Leiden) (Udtalt. En introduktion til dansk fonetik af Jan Heegård Petersen, Holger Juul, Nicolai Pharao og Marie Maegaard)

Kristoffer Friis Bøegh (Aarhus) (Manual i fagleksikografi: udarbejdelse af fagordbøger – problemer og løsningsforslag by Henning Bergenholtz)

Line Geertsen (Danmark) (Teorien om alt Teorien om alt og andre artikler om sprog og filosofi, red. af Jens Cramer, Mette Kunøe,  Ole Togeby; Moders stemme, fars hammer af  Niels Davidsen-Nielsen)

Jakob Steensig, Aarhus (A New Russian Grammar & Designing Interactive Systems)

Susan Bjørn (Festskrift til Peter Skautrup, redigeret af Svend Aakjaer, Kr. Hald, Aage Hansen, Niels Åge Nielsen)

Anne Leth Sørensen, Odense (Læseforståelse – hvorfor og hvordan?, af Merete Brudholm; Kulturens Gesandter: Fremmedordene i dansk, af Erik Hansen & Jørn Lund)

Stephanie Andersen (Semantiske roller; og Tidsskrift for Sprogforskning – kasus, sætningsled og semantiske roller)

We may still owe prizes to the following persons from last year, delayed because of Covid-19:

Peter Aagaard Sørensen, Berlin.

Nikita J. Myrting, Aarhus

Tine Lykkegaard Nielsen
Jon Lapresa-Serrano